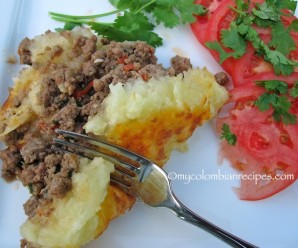 Pastel de Yuca con Carne (Cassava and Beef Casserole)
Ingredients
1

tablespoon

of olive oil

1

pound

ground beef

2

onions

peeled and finely chopped

½

cup

red bell pepper

chopped

3

garlic cloves

minced

1

tablespoon

tomato paste

1

tablespoon

chopped fresh parsley

2

tablespoons

chopped fresh cilantro

1

cup

of tomato sauce

Salt and black pepper

2

pounds

of fresh or frozen yuca

½

cup

of milk

2

tablespoons

of butter

Salt and pepper

½

cup

grated parmesan

1

cup

grated cheddar cheese
Instructions
Heat the oil over medium-high heat in a sauce pan. Cook the beef. Remove the meat from the pan with a slotted spoon. Add the onions to the pan and saute until the onions are soft, about 5 minutes.

Add the garlic and red bell pepper and cook for 5 minutes more. Add the tomato paste, cilantro, parsley and tomato sauce. Stir and cook for 2 minutes more.

Season with salt and pepper. Return the meat to the pan and cook over medium-low heat for about 30 minutes until the beef is fully cooked.

Pre-heat the oven to 400 degrees F.

Place the yuca into pieces and place into a pot of cold, salted water. Bring the water to a boil and cook it until is tender, about 10 minutes. Drain the yuca and return it to the pot.

Add the butter, milk and mash it to make a puree. Season with salt and pepper.

Spread half of the mashed yuca evenly in a baking dish.When the meat is ready, put it on top of the yuca and spread the remaining mashed yuca evenly all over the top. Add the cheeses over the yuca and bake the casserole until the top is golden, about 20 to 25 minutes.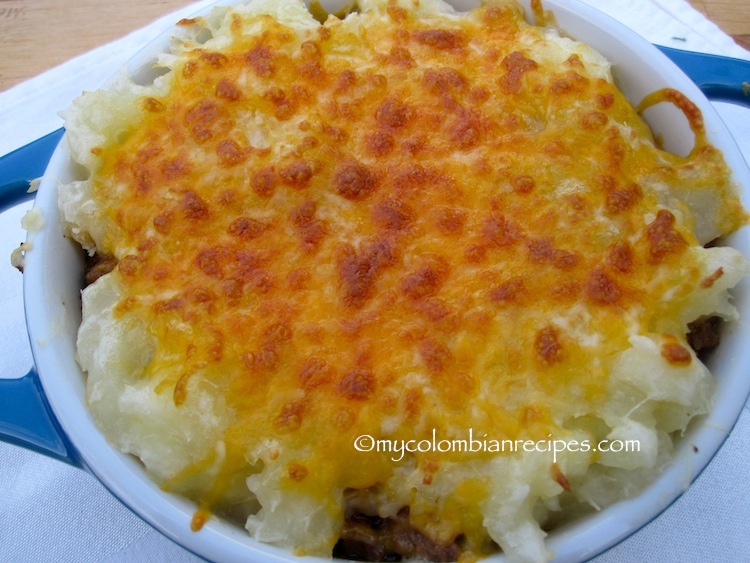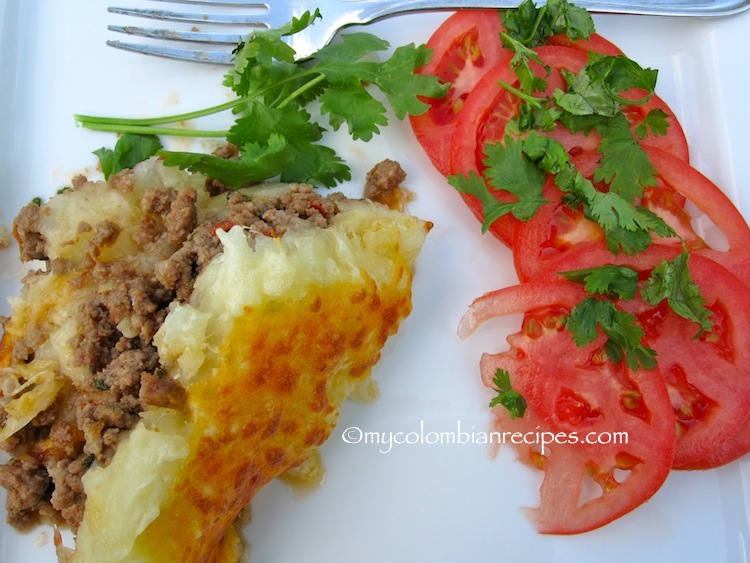 I love sharing my childhood recipes and stories with you. Colombian food triggers memories of my grandmother and the rest of my family as well. Sometimes while I am cooking a particular dish, I find myself smiling at the memories of Mamita in the kitchen. The pictures are so clear and vivid, that it's as if I am there again. I can hear her voice and smell the fantastic aromas of her traditional Colombian dishes.
This Pastel de Yuca con Carne is a quick and easy meal. It is one of those dishes that reminds me of home, and a dish that you won't often find on a menu in a Colombian restaurant. Home cooked Colombian food is comforting and satisfying.
I Hope you enjoy making this Cassava and Beef Casserole. Feel free to replace the beef with the meat of your choice, or just use vegetables and cheese for a meatless meal. Buen provecho!