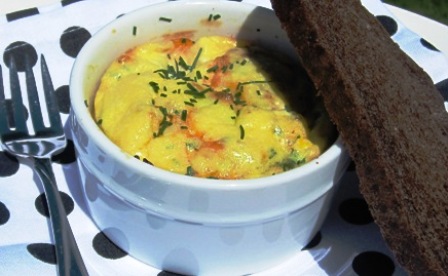 Frittatas are very versatile, you can add any vegetable or meat and you can also serve them any time of the day. This recipe is great for vegetarians. Enjoy!
Ingredients
(4 Servings)
3 small white potatoes, peeled and thinly sliced
¼ cup chopped red bell pepper
¼ cup white onion, finely chopped
1 tablespoon olive oil
1 garlic clove
1 small zucchini, peel and thinly sliced
6 large eggs, lightly beaten
2 tablespoons chopped chives
2 tablespoons chopped parsley
¼ cup grated parmesan cheese
¼ teaspoon ground cumin
Salt and pepper
Cooking spray
Directions
Place the potatoes in a medium saucepan and cover with water. Bring to a boil and cook for 5 to 7 minutes or until tender. Drain and set aside.
Preheat oven to 375°.
Heat the oil over medium heat. Add the onion, garlic, ground cumin and bell pepper. Cook for 5 minutes.
Add the zucchini, salt and pepper and cook for 3 minutes or until tender, stirring occasionally. Stir in the potatoes, parsley, chives and cheese.
Divide vegetable mixture evenly into 4 ramekins coated with cooking spray.
Pour the egg mixture over the vegetables. Cook in the middle of the oven for 15 to 20 minutes or until set. Sprinkle with fresh chives and serve.
This was printed from MyColombianRecipes.com