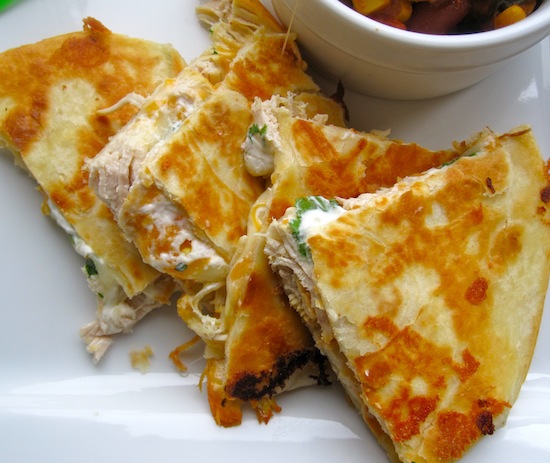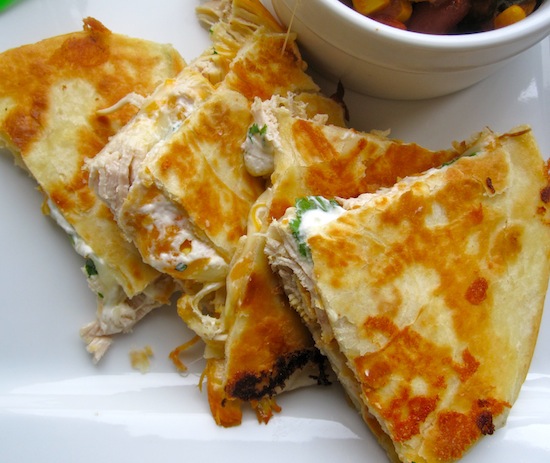 These Chicken Quesadillas  or Quesadillas de Pollo are absolutely delicious and they make a satisfying lunch or weeknight dinner.
They are creamy and full of flavor and are a fantastic way to use your leftover chicken.
I'm telling you, this might be my new favorite quesadilla recipe and I am going to make it over and over again. You can serve them with guacamole, or with tomato or tomatillo salsa.
Buen provecho!
Ingredients
(5 quesadillas)
Cooking Spray or olive oil
3/4 cup cream cheese, softened
1 teaspoon chili powder or to your taste
1 teaspoon ground cumin
Salt and pepper
1/2 teaspoon garlic powder
1/2 teaspoon onion powder
1/4 cup chopped cilantro
1 green onion, finely chopped
2 cups shredded cooked chicken
1/2 cup shredded cheddar cheese
1/2 cup shredded Monterrey Jack Cheese
10 flour tortillas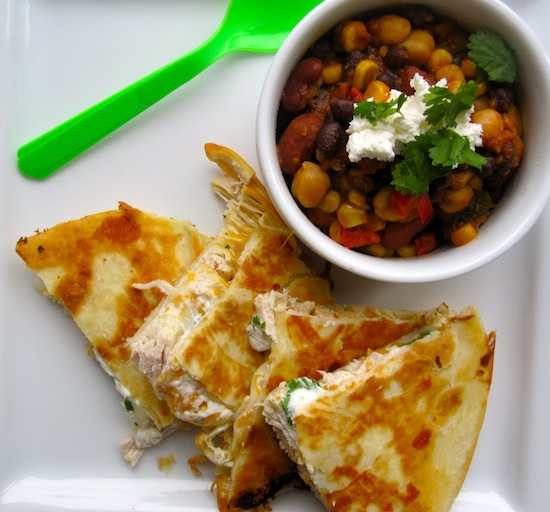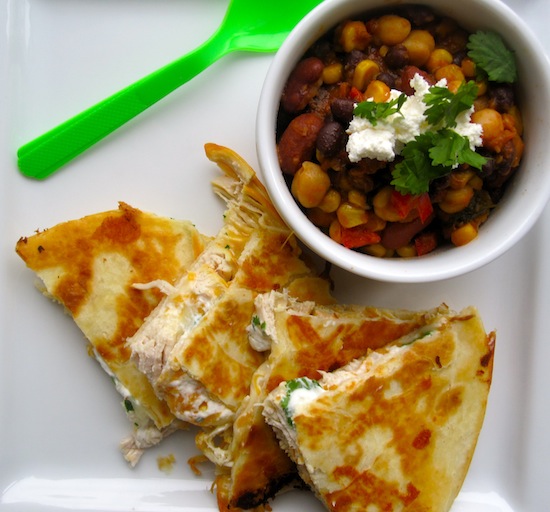 Directions
In a large mixing bowl, combine the cream cheese, chili, cumin, onion powder, garlic powder, salt, pepper, cilantro, green onions, chicken and shredded cheese.  Mix thoroughly until well combined.
On a work surface, spread 2 of the tortillas. Spoon some of the mixture over the bottom of each tortilla.
Top with another tortilla.
Heat a large nonstick skillet with cooking spray over medium heat. Carefully place 1 quesadilla in pan and cook 2 minutes.
Using a spatula, gently flip the quesadilla and cook an additional 2 minutes until lightly browned and the cheese is melted. Repeat with second quesadilla.
Serve warm with your favorite salsa.
This was printed from MyColombianRecipes.com