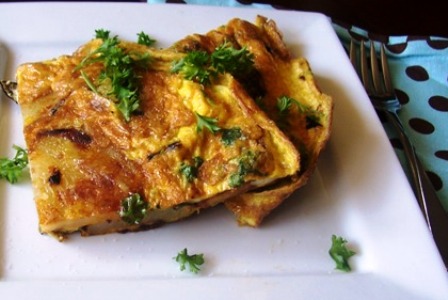 Tortilla Española is a traditional recipe in Spain. I love to make this recipe for breakfast but with a touch of ají, to add a little Colombian flavor. In Spain they eat this omelet at any time of the day and it is a very popular tapa (appetizer) in Spanish restaurants and bars.
Ingredients
(4 servings)
¼ cup olive oil
½ cup thinly sliced onion
2 big white potatoes, peeled and thinly sliced
4 eggs
Salt
4 tablespoons chopped fresh parsley
1 teaspoon paprika
Directions
In a medium non-stick pan, heat the olive oil over medium heat. Add the potato slices in a single layer and fry about 4 minutes on each side or until tender.
With a slotted spoon, transfer the potatoes to a plate lined with paper towel, set aside. Add the onions to the pan and cook for about 5 minutes or until translucent.
When the onions are cooking, in a medium bowl beat the eggs. Add the fried potatoes, parsley, paprika and salt and let it rest for 1 minute.
Add the potatoes and egg mixture to the pan, decrease the heat to medium low, shake the pan gently to be sure the omelet doesn't stick, cook about 4 minutes.
Place a large plate on top of the pan. Flip over the pan so that the tortilla transfers to the plate. Very carefully slide the tortilla back to the pan so as to cook the other side and continue cooking for 3 more minutes or until done. Transfer the tortilla to a large plate. Let it rest for 5 minutes and cut into slices. Serve warm or cold, either way is delicious.
This was printed from MyColombianRecipes.com