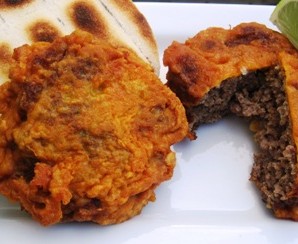 Tortas de Carne Colombianas (Colombian-Style Meat Fritters)
Ingredients
½

pound

ground beef

½

pound

ground pork

½

cup

onion

grated

2

scallions

finely chopped

¼

cup

chopped fresh cilantro

2

garlic cloves

finely chopped

1

teaspoons

ground cumin

Salt and pepper

to taste

1 ¼

cups

all-purpose flour

1

cup

water

2

eggs

beaten

salt and pepper

¼

teaspoon

ground cumin

¼

teaspoon

achiote or color

Oil for frying
Instructions
To make the patties: In a bowl, combine the beef, pork, onion, scallions, cilantro, garlic, cumin, salt and pepper. Using your hands, mix well.

Divide the mixture into equal portions and form each into a thin patty, about ¼ inch thick. Place on a plate and set aside.

To make the batter: Place all the batter ingredient in a medium bowl and mix with fork until the mixture is smooth. Preheat oven to 250 degrees F.

Pour oil to a depth of about 1 inch into a large, heavy frying pan, and heat over medium-high heat until the oil shimmers.

Dip the meat patties one by one into the batter and place them in the fry pan.

Cook each fritter on both sides until golden brown, approximately 4 minutes per side.

emove the fritters to a wire rack set in a half sheet pan and place in the oven to keep them warm until ready to serve.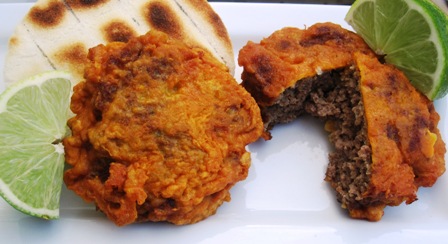 This is my grandmother's recipe for Tortas de Carne, which she would make us for an afternoon snack or for breakfast. They are basically ground meat patties mixed with spices, then coated in a batter and fried. You might find these meat fritters in Colombian bakeries around the world.
These fritters are absolutely delicious! I like to serve them with a small arepa, ají, and lime on the side.
Buen provecho!