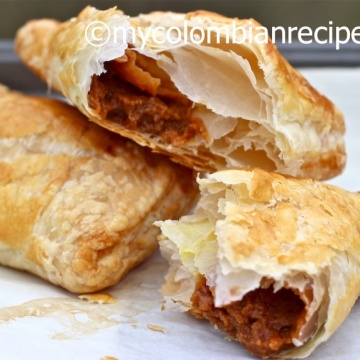 Pasteles de Arequipe (Dulce de Leche Turnovers)
Ingredients
6

pasteles de arequipe

1

package of frozen puff pastry

thawed

1

egg

lightly beaten

2

tablespoons

sugar for garnish

2

cups

of dulce de leche or arequipe

homemade or store bought
Instructions
Preheat oven to 400 degrees F. Line a baking sheet with parchment paper.

Flour a clean, dry counter top or other flat working surface. Place the puff pastry sheet on the work surface and roll out into a rectangle. Cut the rectangle in half lengthwise and then cut each half crosswise into 3 squares. Place the squares on the prepared baking sheet.

Brush a ½-inch border of the egg around 2 adjacent sides of each pastry square.

Spoon arequipe in the middle of the square. Fold the pastry over the filling to make a triangle and press the edges with your fingers or a fork to seal.

Repeat with the remaining squares. Brush the tops with the remaining egg and sprinkle with the sugar. Bake until the pasteles are golden brown, about 15 minutes. Let cool slightly on the baking sheet, then serve warm.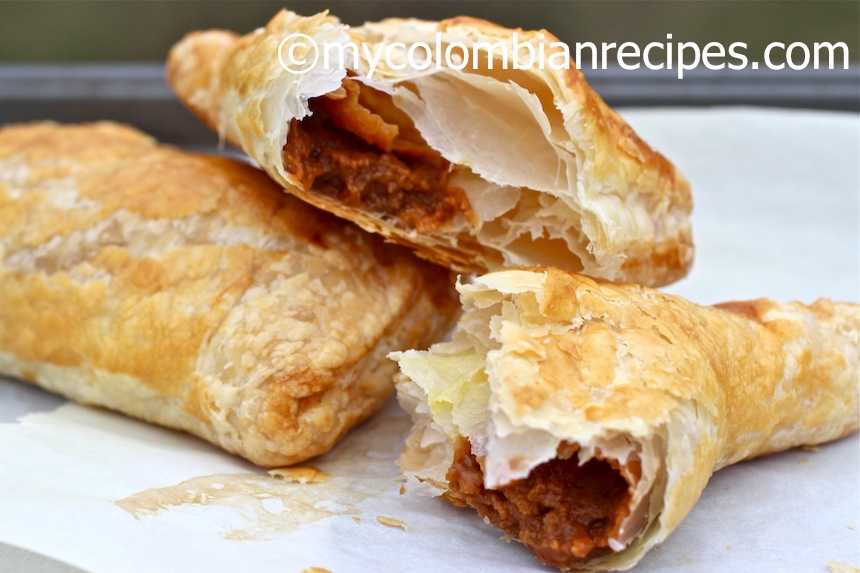 Pasteles de Arequipe are one of the most delicious pastries and are a snack and dessert staple in Colombia. You'll find them in Colombian bakeries (panaderias) in Colombia and around the world. As a girl, after school, my mom would stand at the kitchen counter talking with us about our day and then a few minutes later we'd have a warm Pastel de Arequipe and a cold glass of milk in front of us for a snack.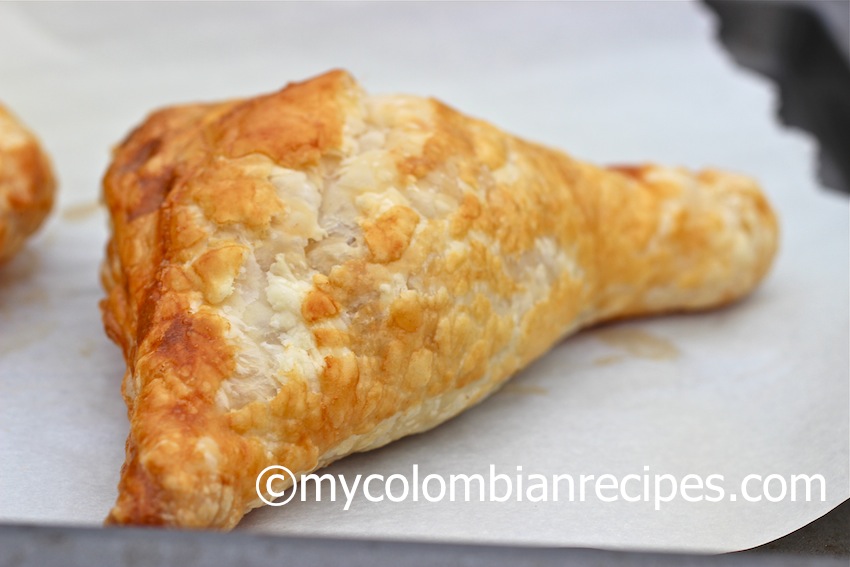 I always left the milk behind and ate a couple of Pasteles de Arequipe. I've always hated plain milk, so I had mine with water, and now as an adult, I just love to eat them with a cup of black coffee...yummy 🙂
Pasteles de Arequipe are very simple and easy to make. You can use store bought pastry and store bought dulce de leche. What can be easier than this Dulce de Leche Turnovers recipe? So, what are you waiting for? Go and make a batch now and you will thank me later.
Buen provecho!