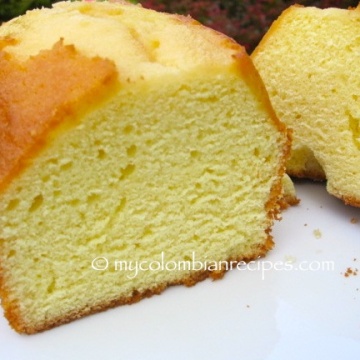 Ponqué (Colombian Pound Cake)
Ingredients
3

sticks of butter

at room temperature

3

cups

of sugar

3

cups

all purpose flour

½

teaspoon

of baking powder

½

teaspoon

of baking soda

Pinch

of salt

4

large eggs

at room temperature

½

cup

of whole milk

at room temperature

½

cup

of heavy cream

1

teaspoon

vanilla extract
Instructions
Preheat oven to 325 degrees F. In a bowl sift together the flour, baking powder, baking soda and salt.

Butter two 9-by-5-inch loaf pans and line with buttered parchment paper.

In a large bowl, using an electric mixer, beat together the butter and sugar on medium speed until fluffy, about 2 minutes. Add the beaten eggs, beating well after each addition. Add the vanilla.

Reduce the speed to low, add half the flour mixture and beat until incorporated. Beat in the milk and cream until blended. Add the remaining flour mixture and beat just until the batter is smooth. Divide the batter evenly between the prepared pans.

Bake until the top of each cake is golden and a toothpick inserted into the center comes out clean, about 1 hour. Transfer the pans to a wire rack and let cool for about 20 to 25 minutes. Remove the cakes from the pans and let cool completely.
To start, my thoughts and prayers to everyone affected by Hurricane Sandy. I hope you and your families are safe. I am thinking of you!
Now for the recipe...Ponqué is the Colombian version of pound cake, which is basically a cake made with equal parts of each ingredient, flour, butter, and sugar. Our Colombian version is moist, buttery and rich, very similar to the American version.
I have so many childhood memories of times spent with my Mom, but the ones I like the most are the times we spent baking and cooking together. This cake brings back a lot of childhood memories for me. I grew up eating this dessert.
This my Mom's Ponqué recipe, which she just gave to me over the phone a couple of weeks ago.
Thanks, Mom!
Buen provecho!