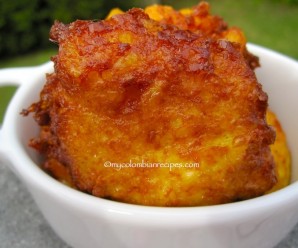 Regañonas (Colombian Corn Fritters)
Ingredients
4

ears of corn

3

beaten eggs

1

teaspoon

of sugar

1

teaspoon

of baking powder

Salt and pepper

Vegetable oil for frying
Instructions
Remove corn kernels from the cobs, heat oil to 300°F in a pot, and line a large plate with paper towel and keep it close.

Place the corn in the food processor along with eggs, baking powder, sugar and salt, blend until smooth and transfer mixture to a bowl.

Drop the corn batter very gently into oil by the tablespoonful. Do not overcrowd the pot. Once the fritters float to the top, flip them around once until golden brown and they start to darken around the edges.

Take them out with a slotted spoon and place them on paper towel-lined plate. Repeat until all fritters are cooked.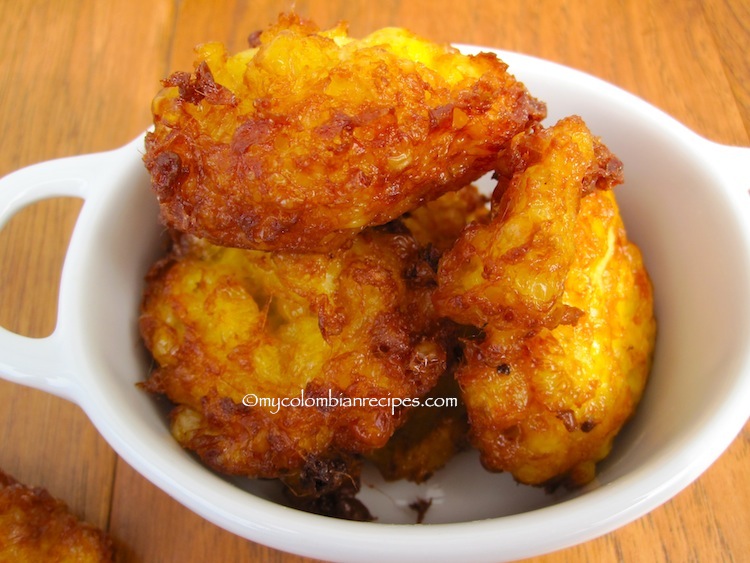 Regañonas are a popular and versatile side dish from the Santander department of Colombia. They can be served with fish, meat or poultry, but I've also served them for breakfast, lunch, snack, appetizer and for dinner with a hearty stew or soup. The possibilities with these corn fritters are truly endless.
These Regañonas or corn fritters are fantastic, they are crispy outside and soft on the inside, and if you have a vegetarian at home like me, they make a great meatless dish.
Buen provecho!