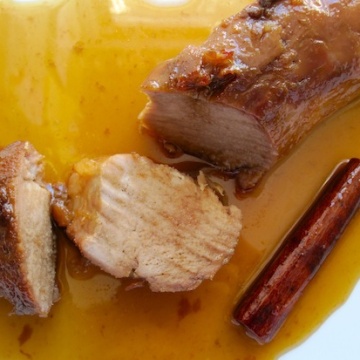 Cerdo al Caramelo (Pork Loin with Caramel Sauce)
Ingredients
3

pounds

boneless pork loin

1

garlic clove

1

cup

onion

Salt and pepper

¼

cup

melted butter

2

cups

grated panela or brown sugar
2 cinnamon stick
Pinch ground cloves
Instructions
Preheat the oven to 350 degrees F.

Grind together the garlic, onion, salt, and pepper. Spread the mixture over the pork and allow it to sit at room temperature for at least 20 minutes.

Place the pork in a pot and add 5 cups of water. Cover and cook over medium heat for 30 minutes.

Transfer the pork to a roasting pan and set aside. Add the cinnamon sticks, melted butter, brown sugar or panela, and ground cloves to the cooking liquid. Mix well and add the mixture to the pork.

Cook for 30, or until a meat thermometer inserted into the middle of the pork reads exactly 138 degrees. Add more water if necessary.

Cover the meat with aluminum foil and allow it to rest for 15 minutes. Arrange the meat on a platter and pour the sauce on top.

Sprinkle with salt and freshly ground pepper to taste. Serve warm.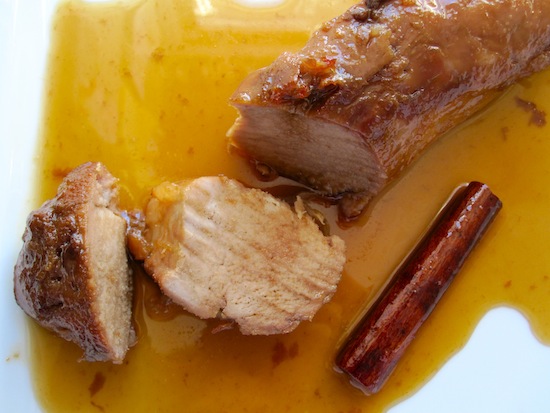 This dish is from my hometown of Antioquia. Pork is one of those things that every "Paisa" eats and there are so many ways to cook it. We smoke it, we braise it, we roast it and we bake it. In Antioquia, we love to add fruit and sweet sauces to pork. I absolutely love the addition of sweetness to pork, it is the perfect combination.
Cerdo al Caramelo or Pork Loin with Caramel Sauce, was a staple in my house growing up. My mom made this dish often and we all loved it. This dish is lovely served over white rice or mashed potatoes, or you can serve it with yuca fries.
It's a delicious main dish for a dinner party.
Buen provecho!