Tamales de Pipían are a variation of Colombian tamales from El Valle del Cauca region of the country. Colombian tamales are made with precooked corn flour and wrapped in plantain leaves, the filling is different depending on the region.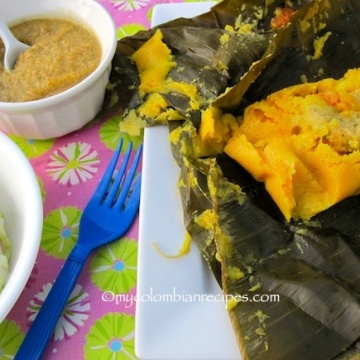 Tamales de Pipían (Pipían Tamales)
Ingredients
Banana leaves for wrapping

Ají de maní

for serving

1

pound

yellow precooked corn meal

masarepa

5

cups

water

Salt

½

cup

of aliuños

2

tablespoons

sazon Goya with azafran or color

1 ½

pounds

pork meat

cut into 12 pieces

3

garlic cloves

minced

1

onion

chopped

3

scallions

chopped

2

tablespoon

vegetable oil

Salt and pepper

2

cooked eggs

chopped

3

large potatoes

peeled and diced

½

cup

roasted peanuts

finely chopped

Salt and pepper

1

cup

of hogao

½

teaspoon

ground achiote
Instructions
In a large plastic bowl place the pork, with the garlic, onions, scallions, vegetable oil, salt and pepper. Mix well, cover and refrigerate overnight or at least 3 hours.

To make the Pipían: Cook the potatoes in a pot with water for 20 minutes or until tender. Drain and gently mash the potatoes. Set aside.

Place the cooked potatoes, cooked eggs, peanuts, salt, pepper, hogao and achiote in a bowl and mix well. Set aside.

To make the masa: Place the masarepa in a large bowl, add the water, salt, sazon Goya or color and aliuños. Mix well with a wooden spoon or your hands.

Wash the leaves well with hot water and set aside.

To assemble the tamales: Place 1 piece of the leaf on a work surface and place a second leaf on top, pointing in the opposite direction, like forming a cross.

Spread about 5 tablespoons of masa in the center of the banana leaves, at the point where they connect and form a cross. Place 1 piece of pork on top of the masa and place about 2 tablespoons of pipían on top of the meat.

Fold the banana leaves up, one of the four sides at the time, so that the leaves enclose all of the filling, like youu2019re making a package. Tie with butcheru2019s string. Continue the process until all the tamales are wrapped and tied.

Bring a large pot with salted water to a boil. Add the tamales and then reduce the heat to low. Cover and cook for about 1 hour. Remove the tamales from the pot and let them sit for about 5 minutes before serving. Cut the stirring and serve in the leaves. Serve with ají de maní.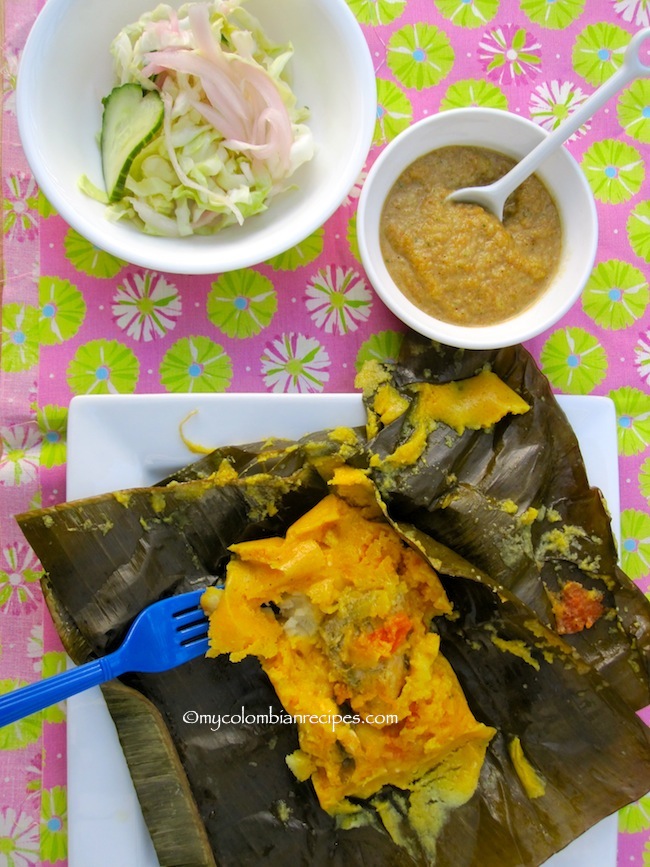 Tamales de Pipían are a staple in del Cauca region in Colombia. There are different variation of tamales for every region of the country. Here are two additional types of tamales: Tamales Antioqueños and Tamales Tolimenses.
Tamales de Pipían are the smallest of the various tamales and are filled with a potato-peanut mixture and pork, and served with ají de maní, a Colombian peanut hot sauce. Tamales de Pipían are a wonderful traditional Colombian dish.
Buen provecho!