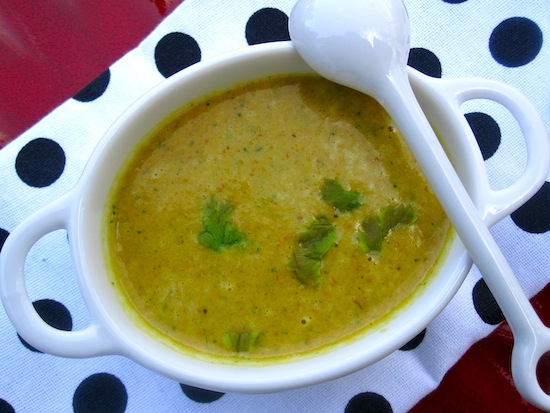 Ají de Maní is a spicy sauce indigenous to the Popayan zone of Colombia. It is a must for Empanadas de Pipian and Tamales de Pipian. I personally love this delicious sauce with fresh vegetables or grilled chicken.
My American husband eats this sauce as a dip with Ritz crackers and he says that it is really good. However you use it, it is a wonderful spicy sauce recipe.
Buen provecho!
Ingredients
2 scallions, finely chopped
2 tablespoons vegetable oil
3/4 cup roasted peanuts
1/4 cup fresh cilantro
1 large garlic clove
1/4 teaspoon sazon goya with azafran, achiote or color
1/2 teaspoon ground cumin
Salt and pepper
1 teaspoon jabanero pepper
2 cups of water
Directions
Heat the oil in a sauce pan, add the scallions and cilantro. Cook for about 2 minutes. Transfer to a blender and add the rest of the ingredients.
Blend until smooth. Transfer the sauce to the sauce pan and cook over medium-low for 12 to 15 minutes. Let it cool and serve.
Note: Refrigerate covered up to 1 week.
This was printed from MyColombianRecipes.com