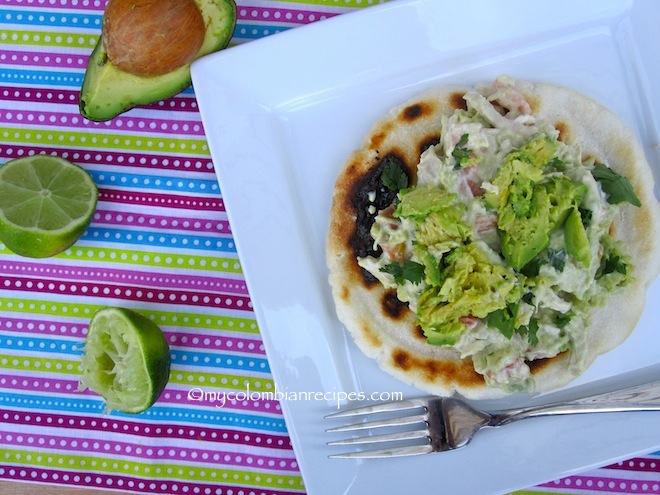 Have I told you about my love affair with Arepas? I could live on arepas alone. I never get tired of them!
Today I want to share a delicious arepa with you that is popular in Venezuela. Reina Pepiada is basically an arepa, or corn cake, stuffed with a mixture of shredded chicken, mayonnaise and avocado.
I made my Colombian version, making a thinner arepa and placing the mixture on top, as we do in Colombia, rather than a thicker stuffed arepa, as is traditional in Venezuela. Either way, it is a fantastic arepa dish, with a wonderful combination of flavors.
Thank you Venezuela for this fantastic traditional arepa dish!
Buen provecho!
Ingredients
(4-6 servings)
4 to 6 cooked arepas
4 cups shredded cooked chicken
1/4 cup chopped scallions
1/4 cup grated white onion
1 /4 cup finely diced red bell pepper
1garlic clove, minced
3 tablespoons finely chopped fresh cilantro
1/2 cup of mayonnaise
2 tablespoons of lime juice
1 ripe avocado, peeled and dice, plus more for serving
1 teaspoon of hot sauce (optional)
Salt and black pepper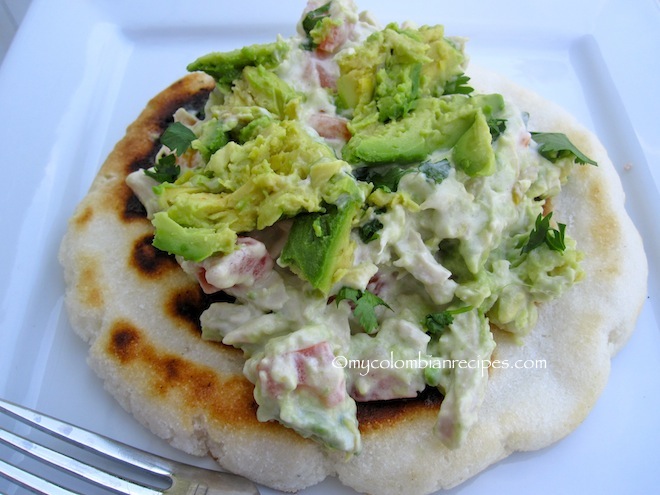 Directions
In a bowl, mix together the cooked and shredded chicken, scallions, white onion, red bell pepper, garlic and cilantro. Set aside.
In a small bowl, whisk together the mayonnaise, lime juice, avocado, hot sauce, salt and pepper to taste. Add to the chicken and mix gently until combined. Refrigerate until ready to serve.
To assemble: Place the arepas on a serving plate, top with the chicken and avocado mixture. Add some avocado on top and sprinkle cilantro or parsley . Serve immediately.
This was printed from MyColombianRecipes.com