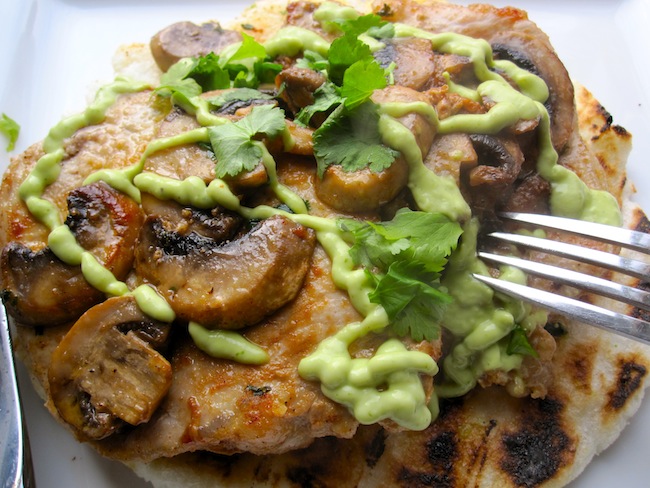 This seems like an insane amount of work for an arepa, but it is worth it, I swear. Everything just blends together into the best, most flavorful arepa I've ever had. There are times when I just need something comforting, and today was one of those days, so at lunch time I decided to make myself this wonderful arepa.
Buen provecho!
Ingredients
4 servings
4 arepas
2 tablespoons butter
1 1/2 pounds pork loin, cut into 4 pieces
2 garlic cloves, minced
1/4 cup cup, finely chopped onion
2 scallions, finely chopped
1/4 teaspoon ground cumin
Salt and pepper
2 cups sliced portobello mushrooms
Fresh cilantro for garnish

Avocado Sauce

1 small avocado, diced
1 cup crema fresca or creme fraiche
2 tablespoon mayonnaise
1 jalapeño pepper
1 cup fresh cilantro
1/4 cup red onion
Juice of 1 lime
1/4 teaspoon ground cumin
Salt and pepper
Directions
Place the pork pieces between sheets of wax paper, then pound until each steak is about ¼ inch thick.
Place the pounded pork in a zip lock plastic bag. Add the onion, scallion, cumin, garlic, salt and pepper. Refrigerate for 1 hour or overnight. Be sure the steaks are evenly covered.
In a large skillet, heat the olive oil over medium heat. Place the pork into the skillet and cook for 2 minutes per side. Add the mushrooms and cook for 3 minutes more or until the pork and mushrooms are cooked. Season with salt and pepper and set aside.
To make the avocado Sauce:
In a blender, mix all the ingredients until smooth.
To assemble: Top each arepa with pork and mushrooms. Drizzle avocado sauce on top and garnish with fresh cilantro. Serve warm.
This was printed from MyColombianRecipes.com