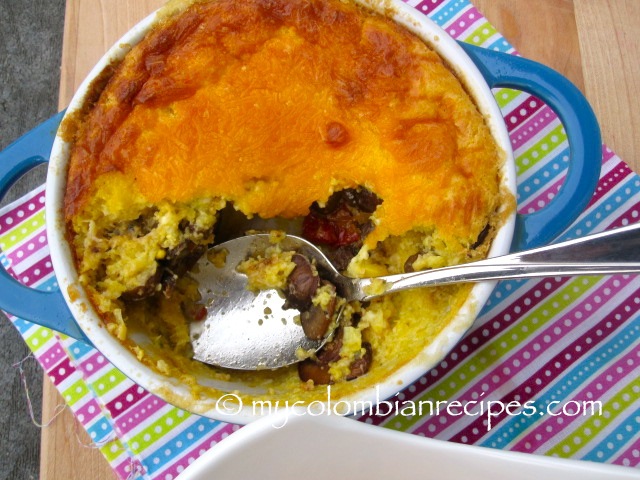 I've been craving today's recipe, Pastel de Chocolo con Champiñones, for a long time. One of my aunts in Colombia makes this dish and I've always loved it, but never made it at home until a couple of weeks ago. I didn't even have her recipe, but luckily, I remembered watching her make it and tasting all of those wonderful flavors.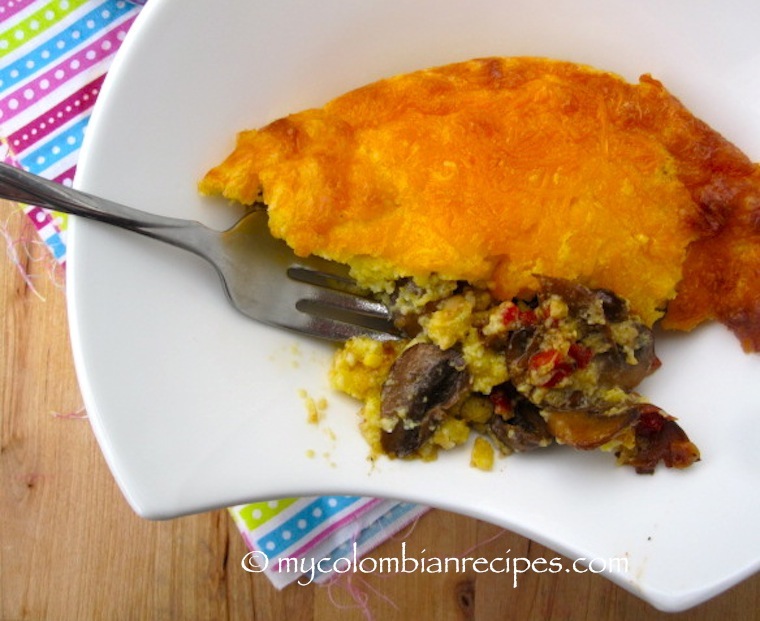 Rich, comforting, and full of flavor, this Mushrooms and Corn Casserole is a wonderful meatless main dish. Spoonful after spoonful, you can smell the earthy aromas of mushrooms, cumin and thyme that blend perfectly with the sweet corn.
Buen provecho and I hope you all have a lovely weekend with lots of happy cooking.
Ingredients
For the filling

4 tablespoons olive oil
1 onion, finely chopped
2 pounds fresh small portobello mushrooms, sliced
3 garlic cloves, minced
1 roasted red pepper, diced
1 tablespoon chopped fresh thyme
1/2 teaspoon ground cumin
Salt and ground pepper, to taste
For the Corn layer:
1 cup cornmeal
1 cup of corn kernels
1 cup grated cheddar cheese, plus more to top the casserole
1 cup heavy cream
Salt and pepper
1 egg
1/2 teaspoon of baking powder
1 tablespoon of sugar
1/4 cup of melted butter
Directions
In a large pan over medium heat, warm the olive oil. Add the onion and sauté, stirring occasionally, until tender, about 8 minutes.
Add the mushrooms and cook until soft, about 8 minutes. Add the garlic, red pepper, cumin and thyme. Cook for one more minute. Season with salt and pepper. Remove from the heat and set aside.
To make the corn layer: In a large bowl, stir together all the ingredients. Preheat the oven to 400 degrees F.

To assemble: Spread half of the corn mixture in an even layer in the baking pan. Top with the mushroom mixture, then top with the rest of the corn mixture.

Sprinkle with the remaining cheese and bake until the casserole is cooked through and the top is golden, about 20 minutes. Let stand 5 minutes before serving.
This was printed from MyColombianRecipes.com