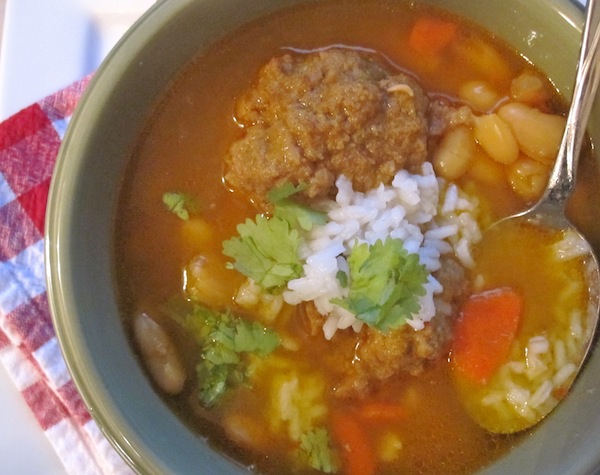 Colombian cuisine consists of several bean recipes and every Colombian cook or mom has her or his own recipe for bean soups. This recipe for Sopa de Frijoles Blancos con Albóndigas is Mamita's, except for a few changes made by my mom. I grew up eating and loving this version of the soup and I want to share this recipe with you today.
My mom's soup was full of flavor. Sometimes she mashed the beans to make the soup thicker and creamier. It's just comfort in a bowl!
Buen provecho!
Ingredients
(4-6 servings)
Albóndigas or Meatballs

½ pound ground pork
½ pound ground beef
1 cup aliños sauce
Salt and pepper
¼ warm water
1/2 cup masarepa or precooked cornmeal

Soup

3 tablespoon vegetable oil
1/2 cup chopped onions
2 cups diced tomatoes
¼ cup chopped scallions
Salt and pepper
3 cloves garlic, minced
¼ cup chopped cilantro, plus more for serving
¼ teaspoon ground cumin
2 cups dried white beans

6 cups water

2 peeled and sliced carrots

2 large potatoes, peeled and diced
Directions
In a large bowl, combine the beef, pork, aliños, salt, cornmeal and water. Knead with your hands until well mixed.
Shape the mixture into 12 small meatballs, set them on a plate.
To make the soup:
Wash the beans and soak overnight in cold water. Drain the beans and place in a large pot and add the water. Over medium-high heat, bring the beans to a boil, then cover the pot and reduce the heat to medium-low. Add the meatballs and allow the beans to cook until almost tender, approximately 1 hour.
When the beans are cooking, prepare the guiso. In a large skillet, heat the vegetable oil over medium heat, add the tomatoes, onions, scallions, salt, pepper, garlic, cilantro and ground cumin and cook for 10 to 15 minutes.
Add the guiso, carrots and potatoes. Cover and cook for another 30 minutes or until the beans are fully cooked. (Add additional water as necessary).
This was printed from MyColombianRecipes.com