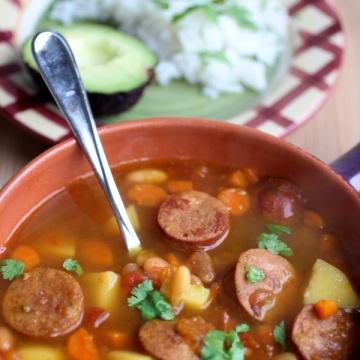 Sopa de Frijoles Canarios con Chorizo (Canary Bean Soup with Chorizo)
Ingredients
1

pound

canary beans soaked overnight

1

tablespoon

oil

2

pounds

chorizo

cut into pieces

6

cups

water

6

cups

beef broth

2

cups

diced carrots

½

tablespoon

ground cumin

2

garlic cloves

minced

1

cup

onion

chopped

½

cup

red bell pepper

chopped

½

cup

green pepper

chopped

2

scallions

chopped

1

large potato

peeled and diced

Salt and pepper

½

cup

chopped cilantro
Instructions
Pick through the beans and discard any debris. In a food processor, add garlic, onion, red bell pepper, green pepper and scallion.

Cook the chorizo in the oil in a large pot over medium heat, stirring occasionally, about 5 minutes. Using a slotted spoon, transfer the chorizo to a plate lined with paper towels.

In a large pot over medium heat, add the beans, water, broth and processed vegetables and carrots. Slightly cover and simmer for 1 ½ hours.

Add the chorizo,ground cumin, cilantro and potatoes. Simmer for 30 to 40 minutes more or until the beans are tender.

Season with salt and pepper. Serve with white rice and avocado on the side.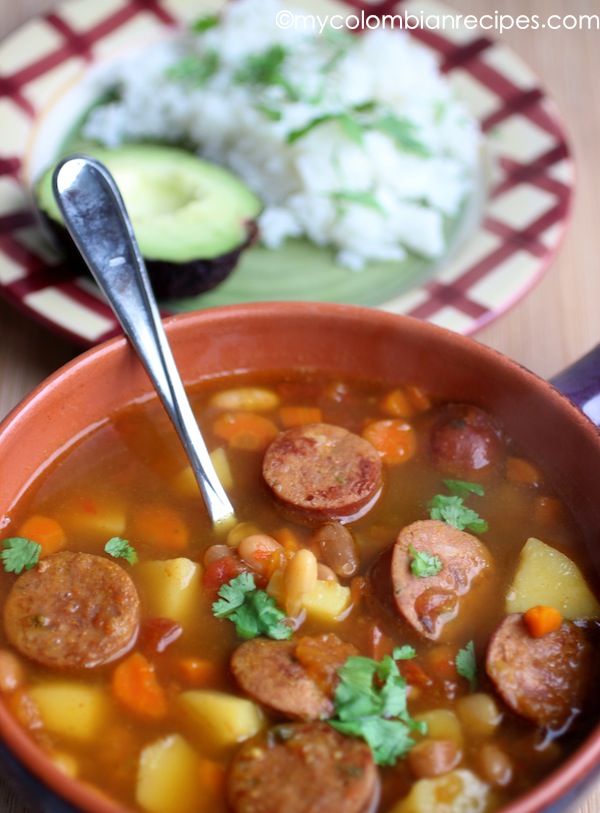 Beans are a big part of Colombian and Latin American cuisine. Growing up in my house we ate beans at least three times per week, for breakfast, lunch or dinner. Some of the beans we'd have were pinto beans, red beans, white beans, cranberry beans, and one of my favorites, canary beans. I love cooking and eating canary beans because they hold their shape beautifully when cooked and are creamy and tender.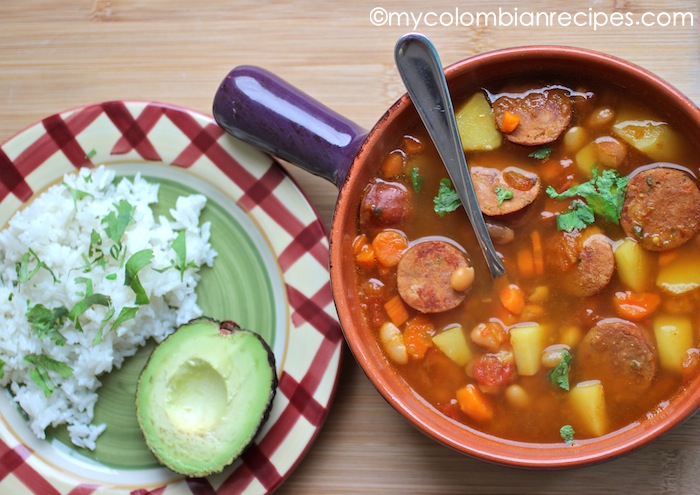 This comforting Sopa de Frijoles Canarios con Chorizo or Canary Bean Soup with Chorizo is one of my favorite ways of eating these beans, and if I could, I would have it for dinner every night! This is not a quick weeknight meal, by any means, but it is most certainly a wonderful weekend meal served with white rice and avocado on the side. I make several variations of this soup, depending on my cravings. Each time I make it, I enjoy experimenting with flavors and aromas of different meats, vegetables and herbs.
It also makes fantastic leftovers, so if you're making Sunday dinner for your family or friends, it's worth making a large pot so that you can enjoy the wonderful leftovers all week long. Another great way to use up the leftovers is to drain the soup and serve the beans over rice with a fried egg on top.
Hope you enjoy this soothing soup as much as I do! Buen provecho!