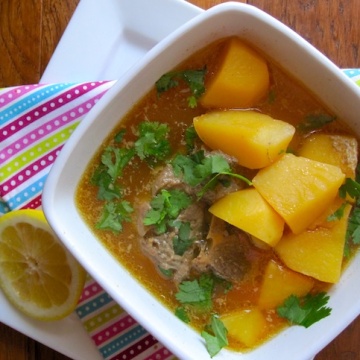 Caldo de Papas con Espinazo (Colombian Potato-Pork Soup)
Ingredients
1

onion

diced

3

garlic cloves

minced

1

red bell pepper

diced

2

scallions

diced

1

teaspoon

ground cumin

½

teaspoon

achiote or color

2

pounds

pork neck bones or pork ribs

cut into pieces

8

medium potatoes

peeled

8

cups

of water

1

cup

of cilantro

chopped

Salt and pepper to taste

Avocado and Hot Sauce to serve
Instructions
Place the onion, garlic, red bell pepper, scallions, cumin and achiote in a blender and blend until smooth.

In a medium pot over medium heat, place the pork bones, water and onion mixture and cook for about 30 minutes. Taking out the foam from the pot every 15 minutes.

Add the potatoes and season with salt and pepper, increase the heat to medium-high, and bring to a boil. Reduce the heat to low, cover, and gently simmer until the potatoes are soft, approximately 40 minutes.

Taste and adjust seasoning if desired. Sprinkle with fresh cilantro and serve immediately with avocado and ají on the side.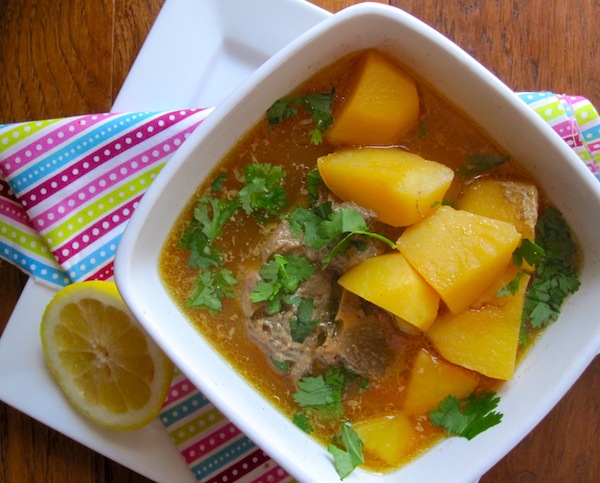 Usually, when I am feeling a little down, I try to console myself with the same simple, comfort food that my mother and my grandmother cooked for me when I was growing up in Colombia. Caldo de Papas is a traditional Colombian soup, of which there are at least a few variations. The base of the soup is potatoes and a protein such a beef ribs, pork ribs, or beaten eggs. In some parts of the country, this soup is served for breakfast with bread on the side.
My favorite Caldo de Papas recipe is my grandmother's. She used pork bones (espinazo de cerdo)or pork ribs. There is nothing fancy about this potato Soup, just potatoes, pork bones, spices and a lot of family memories.
Buen provecho!
Salt and pepper to taste
Avocado and Hot Sauce to serve