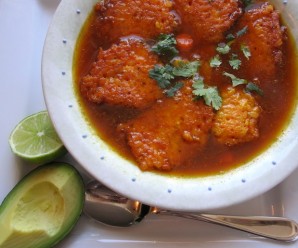 Sopa de Orejas (Colombian Rice fritters Soup)
Ingredients
10

cups

of beef broth

1

tablespoon

olive oil

1

white onion

diced

3

scallions

chopped

6

garlic cloves

crushed

2

teaspoons

of ground cumin

1

teaspoon

of achiote

¼

cup

finely chopped fresh cilantro or parsley

2

carrots

peeled and sliced

3

large potatoes

peeled and diced

2

cups

of cooked white rice

½

cup

of milk

2

beaten eggs

1

teaspoon

ground cumin

1

teaspoon

sazon goya with azafran

Salt and pepper

Vegetable oil for frying
Instructions
Heat the oil over medium heat in a large pot, add the onions, scallions, garlic cumin, achiote, cilantro, salt and pepper.

Add the broth, carrots and potatoes. Bring to a boil, reduce temperature and simmer for about 30 minutes.

While the broth is simmering, start making the fritters: Place the rice in the food processor and process for about 2 minutes.

Mix well, the rice, milk, eggs, sazon goya, cumin, salt and pepper in a medium bowl.

Pour oil to a depth of 2 inches in a skillet. Drop the rice mixture by tablespoons into hot oil. Cook 2 to 4 minutes, or until golden, turning once. Drain on paper towels. Set aside.

Add the fritters to the soup and cook for 12 minutes more. Add fresh cilantro and serve warm with rice and avocado on the side.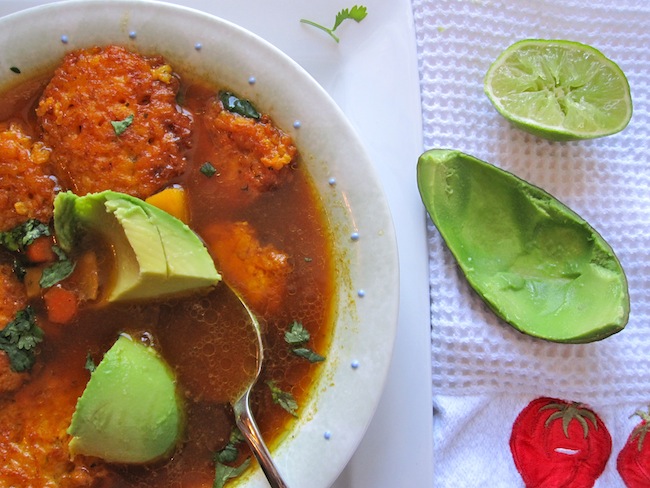 One of my all time favorites is a delicious and comforting bowl of Sopa de Orejas. This is a comforting soup made with beef broth, potatoes, cilantro, onions, scallions, garlic, achiote, cumin and rice fritters. Sopa de Orejas is a traditional Colombian soup from the Antioquia department of Colombian, the region where I was born and raised.
Buen provecho!