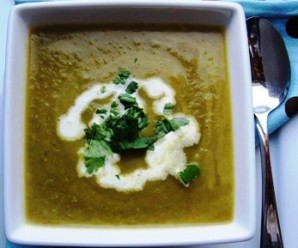 Creamy Vegetable Soup (Crema de Verduras)
Ingredients
1

tablespoon

oil

½

cup

chopped onion

1

scallion

chopped

2

large potatoes

peeled, diced

2

carrots

peeled and sliced

Salt and pepper

6

cups

chicken

beef or vegetable stock

1

cup

peas

1

cup

green beans

1

cup

corn

½

teaspoon

cumin

½

teaspoon

paprika

1

garlic clove

minced

½

cup

chopped cilantro

plus more for garnish

Heavy cream for serving

optional
Instructions
Heat the oil in a large pot over medium heat. Add the onion, scallions, garlic and cook for about 5 minutes, while stirring.

Add the remaining ingredients and mix well. Reduce the heat to medium, cover and simmer for about 45 minutes or until all the vegetables are cooked.

Working in batches, puree soup in blender until smooth and return soup to saucepan. Bring soup to simmer, correct seasonings adding salt and pepper, to taste.

Ladle soup into bowls. Top with 1 tablespoon of heavy cream and garnish with cilantro.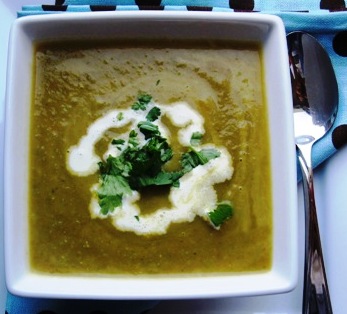 This soup was inspired by mom's sopa de verduras. As a little girl, I was a very finicky eater and that was at a time when grandmothers thought that if you weren't a little fat, you weren't healthy :). So, my mom and grandmother did everything they could to get me to eat. My mom discovered that if she made me soup and put it in a blender, that I would eat it! Well, this vegetable creamy soup was my favorite.
Autumn is a beautiful season, but it has been very cold here in the Northeast part of the country lately. It even snowed yesterday, which was a big surprise. Although it's only the middle of October, it seems as though winter has made an early appearance. I'm not a big fan of winter and every time I see the snow I think about soup. After all, what's better than a bowl of soup on a cold winter day?