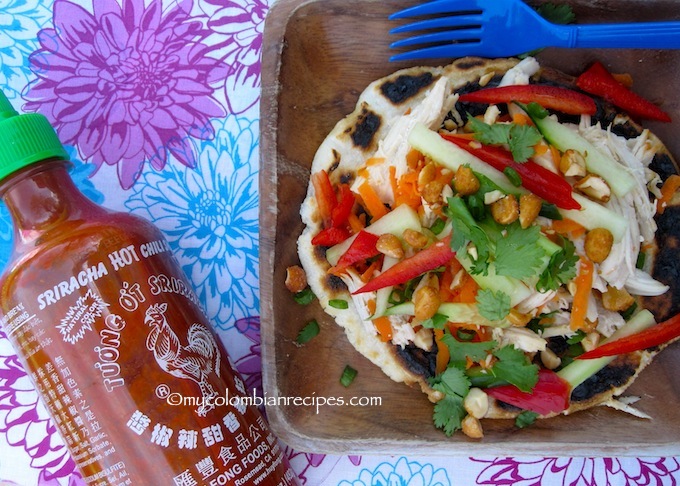 I threw this Thai Chicken dish together for lunch with some leftover chicken that was in my refrigerator. If you're a regular reader, you've probably noticed my obsession with arepas. I am always looking for new ways to prepare them!
I love the combination of spicy chili sauce (shirasha), the fragrant basil, fresh vegetables, chicken and crunchy peanuts. I have made many delicious Thai dishes, but I never thought of adding these wonderful Thai flavors to an arepa…until now that is! These arepas are perfect for snacks, a light lunch, or breakfast.
Buen provecho!
Ingredients
(2 servings)
2 cooked medium arepas
2 cups of shredded cooked chicken
1/4 cup cucumber, peeled and cut into matchsticks
6 tablespoons of shredded carrots
1/4 cup red bell pepper, cut into matchsticks
1/4 cup chopped peanuts
2 scallions, chopped
1/4 cup cilantro leaves, chopped
Thai chili sauce for serving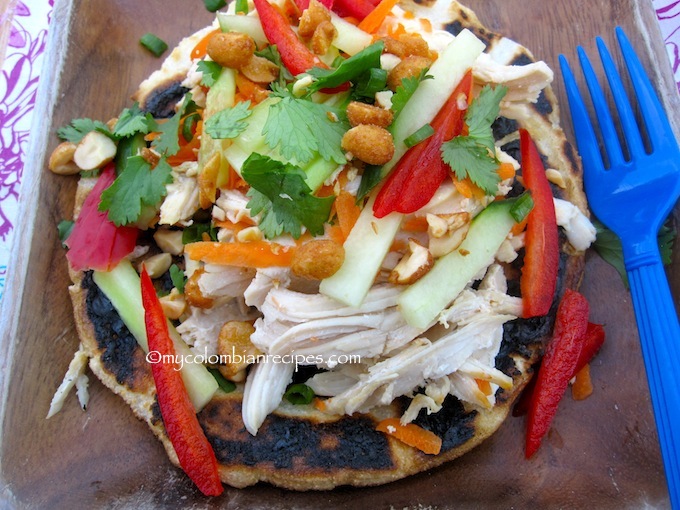 Directions
Place an arepa on a serving plate, top with the cooked chicken and add the cucumber, shredded carrots, red bell pepper and peanuts.
Sprinkle scallions and fresh cilantro. Drizzle chili sauce to your taste and serve.
This was printed from MyColombianRecipes.com