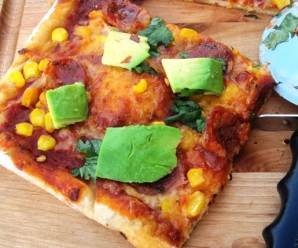 Colombian Pizza (Pizza Colombiana)
Ingredients
½

lb

pizza dough

Flour for surface

½

cup

pizza sauce

1

cup

shredded mozzarella cheese

u¾ cup frozen corn

1

Colombian chorizo

thinly slice and cooked

1

small ripe avocado

peeled and diced

½

cup

chopped fresh cilantro

Cooking Spray

Red pepper flakes

optional

blogherads.adq.push

['Middle2', 'skm-ad-middle2-2'];
Instructions
Preheat the oven to 450°F

On a lightly floured surface turn out the dough and lightly work into a rectangle. Let rest for 10 minutes. Pat and stretch out the dough, turning and lifting to make about ⅛ inch thick.

Place the pizza on a lightly sprayed cookie sheet. Spread the pizza sauce and top with mozzarella cheese.

Sprinkle the frozen corn evenly over the pizza, add the chorizo slices and Bake for about 15 minutes.

Remove the pizza from the oven and top with cilantro and diced avocado. Serve.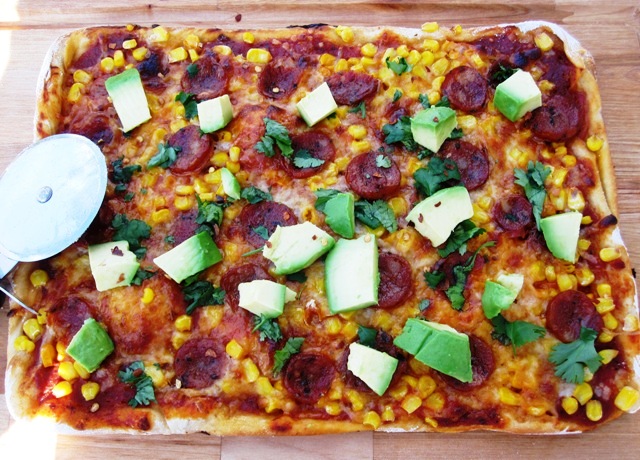 Today let me introduce you to my favorite pizza of all time. This Colombian pizza is one of those things I love to eat whenever I visit Colombia. I must confess, I did not make my own pizza dough, I just used store bought. If you are feeling brave, feel free to make your own…I am not there yet ;-).
I have no words to describe just how good this pizza is. It is packed with goodness! You'll have to try it so that you can understand what I am talking about for yourself. One of the reasons I love this blog so much is because it pushes me to make recipes at home of foods that I love and miss so much from my country.
Buen Apetito!Flour for surface¼ cup chopped fresh cilantro
Cooking Spray
Red pepper flakes (optional)