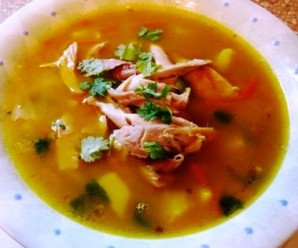 Split Pea and Chicken Soup
Ingredients
1

cup

dried split peas

1

tablespoon

butter or olive oil

5

cups

chicken stock

5

chicken drumsticks

Salt and pepper

1

cup

grated carrots

1

garlic clove

minced

¼

cup

chopped onion

1

scallion

chopped

½

teaspoon

ground cumin

½

teaspoon

paprika

1

large potato

peeled and diced

½

cup

chopped fresh cilantro
Instructions
Place the peas in a large pot, cover with water and soak overnight. Drain the peas and set aside.

In a large pot, melt the butter over medium-high heat. Add the onions and cook, stirring, for 2 minutes. Add the carrots and scallions. Cook stirring, until just soft, about 3 minutes. Add the garlic and cook, stirring, for 30 seconds.

Add the chicken and cook, stirring, until beginning to brown. Add the drained peas, salt, pepper, and cook, stirring for 2 minutes.

Add the chicken stock, the ground cumin and paprika. Cook stirring occasionally for 30 minutes, add the potatoes and cilantro. Cook for 30 more minutes or until the peas are tender, about 1 hour. (Add more water or chicken stock as needed if the soup becomes too thick.)

Remove the skin and debone it, breaking the meat into bite sized pieces, and return the meat to the soup. Season with salt and pepper and serve.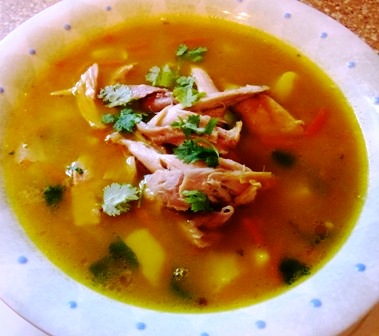 This soup was one of the recipes I made for my sister, Catalina, when she came to visit a couple of weeks ago. We hated soups as kids yet my mom loved to make them, so we had are daily lunch time soup battles with my mother :). Now we love soups, so I made this delicious split pea and chicken soup for her. She appreciated every one of the dishes I cooked, so it was a pleasure to feed her and have her staying in my home. Usually this soup is thicker, but this time I wanted to make it thinner and it was delicious.