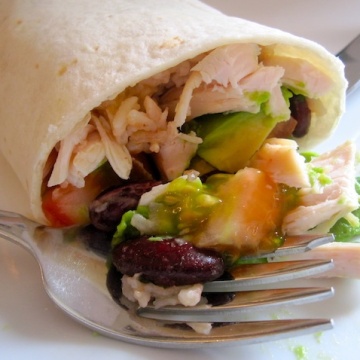 Burrito de Pollo (Chicken Burrito)
Ingredients
4

large flour tortillas

½

cup

cream cheese

1

cup

salsa

3

cups

shredded cooked chicken

1

avocado

peeled and diced

1

large tomato diced

⅓

cup

fresh cilantro

chopped

1

tablespoon

vegetable oil

¼

cup

finely chopped onion

1

scallion

finely chopped

1

garlic clove

minced

¼

cup

finely chopped red bell pepper

1

can

15 oz red beans

¼

teaspoon

ground cumin

salt and pepper

1

cup

long grain white rice

2

cups

chicken stock

1

tablespoon

butter

1

teaspoon

tomato paste

Salt
Instructions
To make the beans: Heat the oil in a large nonstick skillet over a medium-high heat. Cook the onions, scallion, garlic and peppers until onions are softened, about 5 minutes.

Add beans, cumin and cook, about 3 minutes. Season with salt and pepper and set aside.

o make the rice: Rinse the rice thoroughly by placing it into a strainer and running cool water over it. Place the rice in a medium sauce pan, then add the chicken stock, oil, tomato paste and salt.

Bring to a boil over high heat. Stir once and cover, reduce to low heat and cook for 20 minutes.

Remove the pot from the stove and let it sit for 10 minutes. Fluff the rice using a fork and set aside.

To assemble the burrito: Spread each tortilla with cream cheese and salsa then layer with the bean mixture, shredded chicken, rice, diced tomato, cilantro and avocado. Roll up burrito-style and serve with salsa on the side.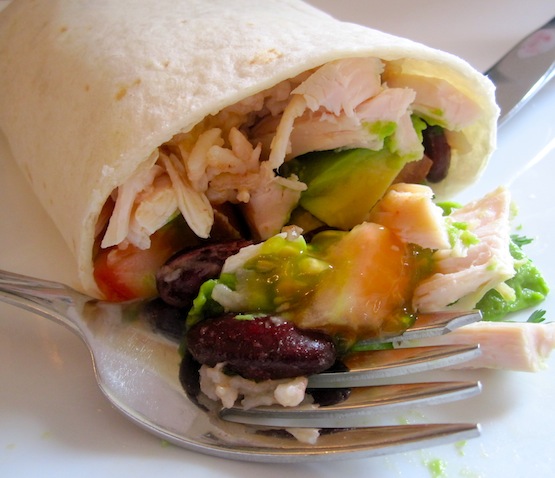 I have to admit that I don't like leftovers. There's something about day-old food that usually makes me feel sick. There are some exceptions of course, like arroz con pollo or homemade beans, but if I can create a new dish using older ingredients, like day old roasted chicken, then that makes for a better experience for me.
It's great discovering new ways to use leftover food that I actually enjoy, like this Chicken Burrito. If you have any leftover roasted chicken ideas, won't you share them with us?
Thank you and enjoy!