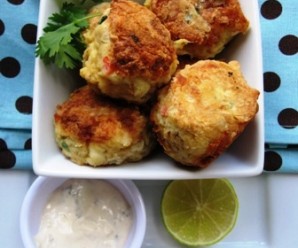 Colombian-Style Fish Balls (Croquetas de Pescado)
Ingredients
1

pound

codfish or other white fish

Salt and pepper

1

bay leaf

1

tablespoon

butter

1

tablespoon

olive oil

¼

cup

finely chopped onion

1

garlic clove

finely chopped

¼

cup

finely chopped red bell pepper

3

tablespoons

finely chopped fresh cilantro

1

tablespoon

milk

2

eggs

beaten

½

cup

bread crumbs

1

egg

beaten

½

cup

all-purpose flour

¼

cup

oil for frying
Instructions
Place 1 tablespoon butter, 1 tablespoon oil, onion, red bell pepper, garlic, cilantro, salt, and pepper in a large sauté pan over medium-low heat and cook until the vegetables are soft, approximately 10 minutes. Set aside.

In a medium pot place the fish, 2 cups water, salt, pepper and bay leaf. Cook about 8-10 minutes.

Place the fish in a large bowl and let it cool. Break the fish into small pieces and toss with the bread crumbs, milk and 2 eggs. Add the cooked mixture and mix well. Cover and chill in the refrigerator for 15 minutes. Shape into small balls.

Place the flour in a plate and the beaten egg in shallow dish. First coat the fish balls with egg and then with the flour.

Heat the oil for frying over medium heat in a large sauté pan. Add the fish balls and fry for 4 to 5 minutes on each side until browned. Drain on paper towels. Serve hot with lime and your favorite sauce on the side.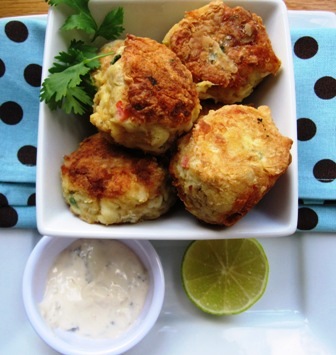 I went to the supermarket this week and must admit that it is one of my favorite places in the world. I just love any place where good food is displayed in such abundance. I saw these beautiful cod fish fillets and couldn't resist, so I bought one pound of them. I came home and realized that I had no idea what to do with this fish. It was a difficult decision 🙂 but I thought Mamita's Croquetas de Pescado were the perfect recipe. Enjoy!