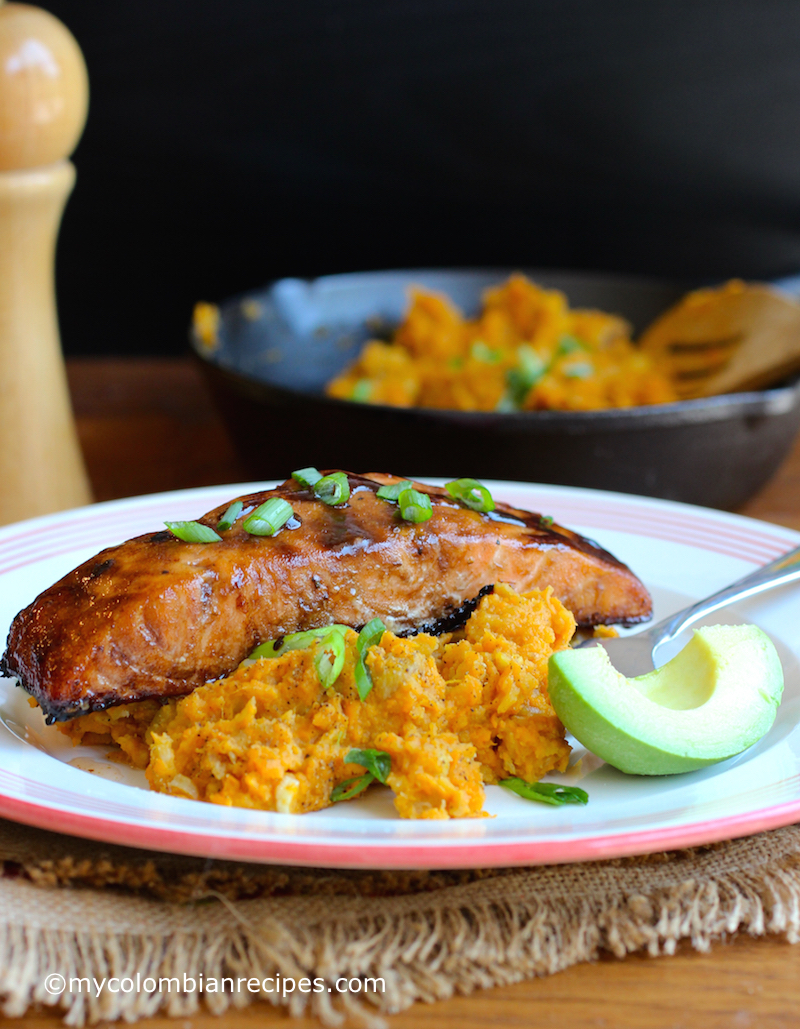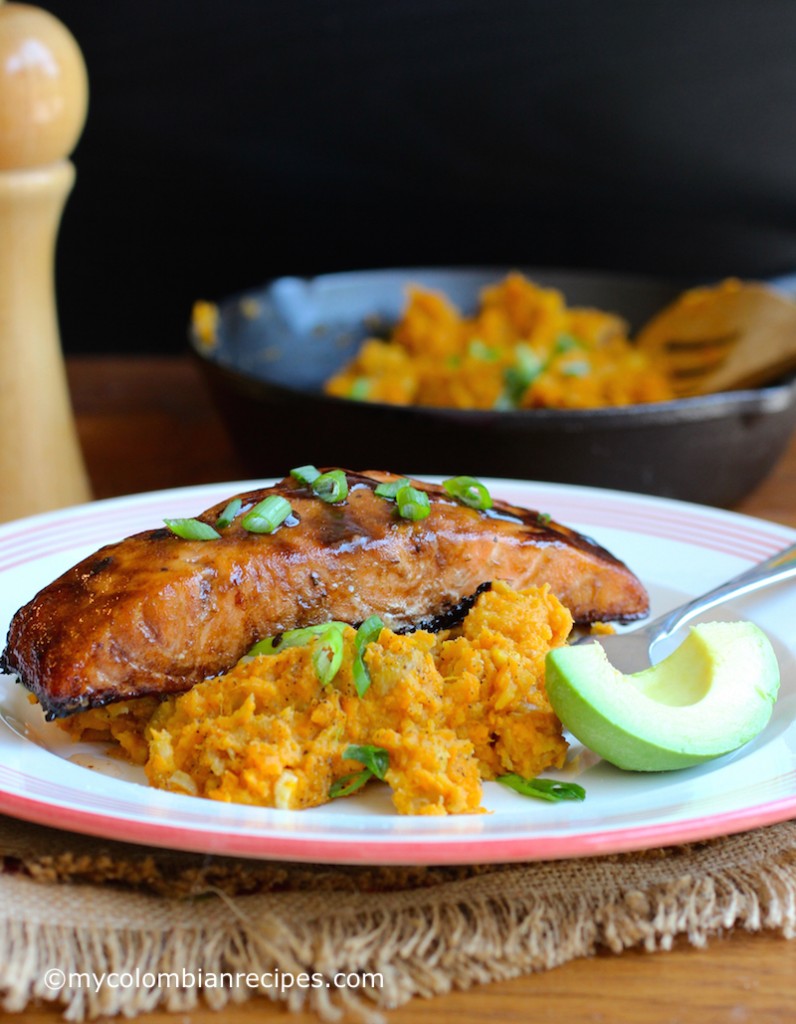 This post is sponsored by KRAFT®, however all opinions are my own. As always, thank you for reading and supporting brands with which I work as it helps support My Colombian Recipes.
School nights with two busy kids can be crazy! Between after school activities and homework, I'll be looking for healthy meals that can be on the table quickly and easily.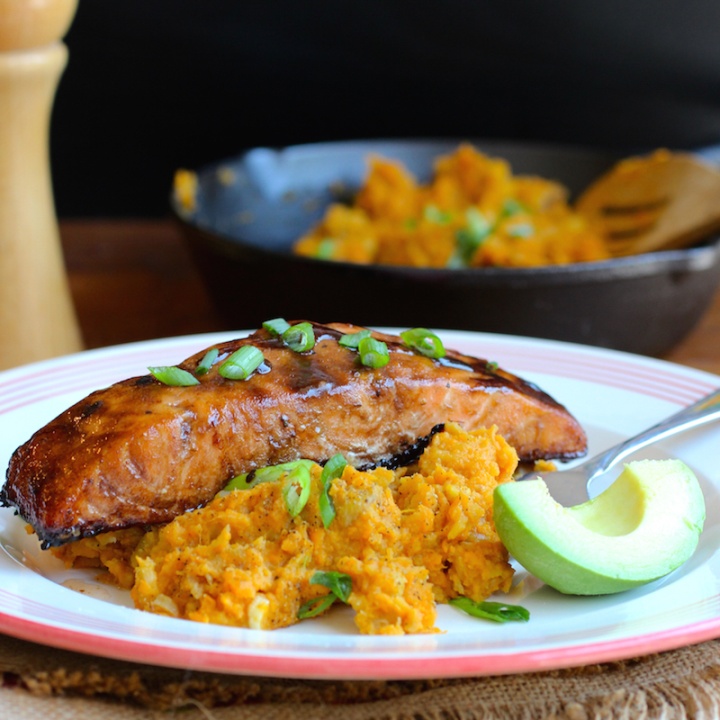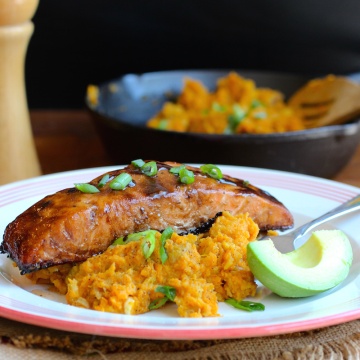 Sweet Balsamic Salmon with Mashed Sweet Potato and Plantain
Ingredients
Salmon
2

salmon fillets

each 4 to 6 oz

4

tablespoons

of KRAFT® sweet balsamic dressing

Salt and pepper
Mashed Sweet Potato and Plantain
1

large sweet potato

peeled and cut into chunks

1

green plantain

peeled and diced

1

tablespoons

olive oil

3

garlic cloves

minced

1

tablespoon

of butter

Salt and pepper

Scallions for garnish
Instructions
To cook the salmon: Place the salmon in a shallow dish, sprinkle with 2 tablespoons of sweet balsamic dressing and marinate for 15 minutes.

Preheat the oven to 400 degrees F. Line a baking sheet with parchment paper and lay the salmon fillets on it.

Bake for 10-12 minutes or until just cooked through, but not dry.

While the salmon is cooking, place the potatoes and plantain in a pot with water and cook until tender, drain and reserve.

In a saucepan place the olive oil over medium heat. Add the garlic and cook for 2 minutes. Add the potatoes and plantains to the pot, mash them and mix to combine. Season with salt and pepper, to your taste. Add the scallions for garnish.

Top the salmon with remaining dressing, serve over the mashed sweet potato and plantain.

Salmon is my favorite fish to both cook and eat. It's colorful, versatile and rich. Although I love to cook a variety of white fish, salmon is the fish I try first when I have a new recipe idea. It doesn't get lost under condiments, making it easier to play with different flavors. Also, salmon's silky texture gives it a wonderful quality, making it not only an easy weeknight option, but a dinner party favorite.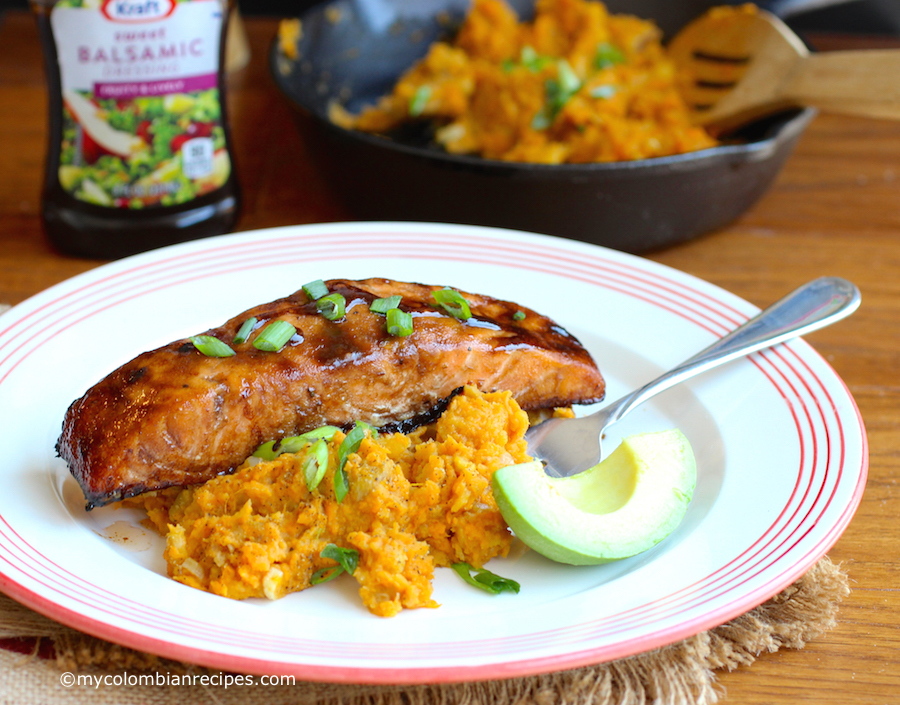 Oven baked salmon takes only minutes to cook, so it's no surprise that one of the biggest mistakes people make when cooking it, is over-cooking it. Fish should be cooked until it's just barely cooked through, so it flakes when pricked with a fork, but is still moist and tender on the inside.
This dish is a perfect example of simple yet flavorful cooking. I marinated the salmon in KRAFT® sweet balsamic dressing. The dressing seeps into the rich salmon while baking, creating an amazing sweet and tangy contrast, while keeping it moist. I served the salmon on top of a sweet potato and green plantain puree which complimented the salmon perfectly.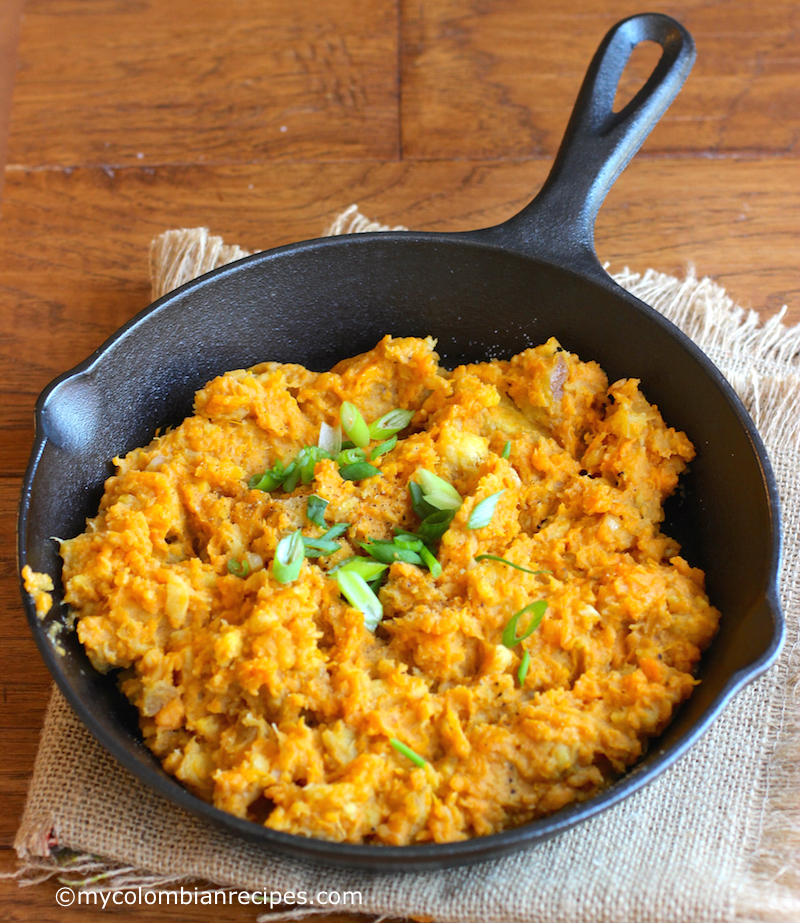 The mashed sweet potatoes and plantain has a great texture and just enough butter to please, without the extra calories you usually find in mashed potatoes.
This Sweet Balsamic Salmon with Mashed Sweet Potato and Plantain dish is very simple to make and bursting with flavor. It's perfect for a busy weeknight meal, while elegant enough to serve at your next special occasion dinner. Buen provecho!