There are many ways to make Colombian Beans. This is my grandmother's recipe and one of my favorite dishes. Serve this beans dish with white rice, plantain and avocado on the side.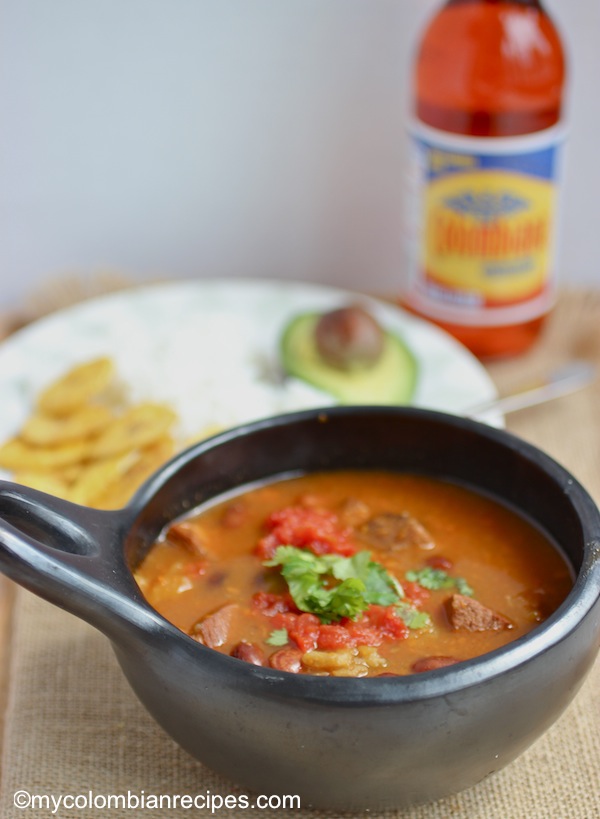 Frijoles Paisas o Antioqueños is a common dish from the Antioquia region. I've eaten it all of my life and it is definitely one of my favorite dishes. Few meals are as truly Colombian as this. We serve it over rice or as part of our famous Colombian dish "Bandeja Paisa" which is a huge meal including, paisa pinto beans, white rice, ripe plantain, Colombian chorizo, avocado, chicharron (pork fritters), ground beef and fried egg.
To make Colombian Style Beans in the United States you can use pinto or cranberry beans. In Colombia we use frijoles cargamanto.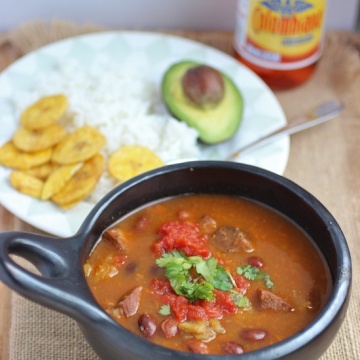 Colombian-Style Beans Recipe
Ingredients
3

cups

cranberry or pinto beans

1

pound

pork hocks

6

cups

water

1

cup

shredded carrots

½

teaspoon

salt

½

green plantain, cut into ¼- inch
Guiso:
1

tablespoon

chopped onions

2

cups

diced tomatoes

¼

cup

chopped scallions

3

tablespoons

vegetable oil

¼

teaspoon

salt

1

garlic clove, minced

¼

cup

chopped cilantro

¼

teaspoon

ground cumin
Instructions
Directions for Pot:

Soak overnight in cold water. Drain the beans and place in a large pot and add the water and pork hocks. Over medium-high heat, bring the beans to a boil, then cover the pot and reduce the heat to medium-low. Allow the beans to cook until almost tender, approximately 2 hours.

When the beans are cooking, prepare the guiso. In a large skillet, heat the vegetable oil over medium heat, add the tomatoes, onions, scallions, salt, garlic, cilantro and ground cumin and cook for 10 to 15 minutes.

When the beans are almost tender, add the guiso, plantains, carrots and salt. Cover and cook for another hour or until the beans are fully cooked. (Add additional water as necessary).

Directions for Slow Cooker:

Use the same ingredients except use just 4 cups water instead of 6.

Wash the beans and soak overnight in cold water. Drain the beans and place in a slow cooker, add 4 cups water and pork hocks and cook on high for about 2 hours.

Follow step 2 in the regular pot recipe.

Add the guiso, plantains, carrots and salt then cover and cook for another 3 hours. Taste for salt and serve.
Notes
To soak your dried beans, place them in a large bowl with water covering them. Soak for at least 8 hours, but I prefer to do it overnight. Drain and rinse the soaked beans, before cooking.
Nutrition
Calories:
474
kcal
Carbohydrates:
33
g
Protein:
30
g
Fat:
25
g
Saturated Fat:
12
g
Polyunsaturated Fat:
2
g
Monounsaturated Fat:
9
g
Cholesterol:
82
mg
Sodium:
517
mg
Potassium:
964
mg
Fiber:
10
g
Sugar:
6
g
Vitamin A:
3913
IU
Vitamin C:
13
mg
Calcium:
100
mg
Iron:
4
mg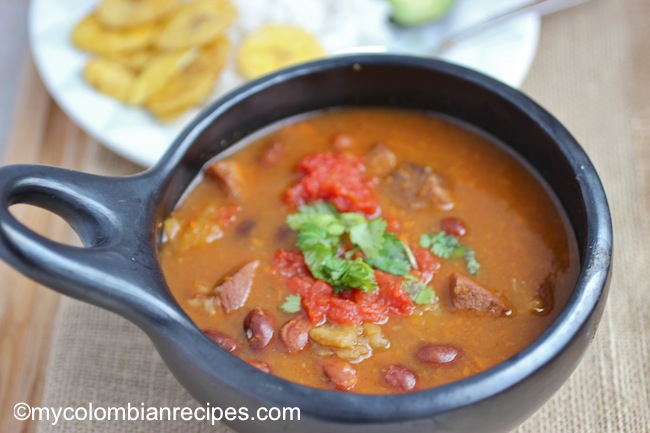 These Frijoles Colombianos are served in most casual Colombian restaurants around the world. If you are on a diet, this is the best reason to break it. In this post, I included directions to make the recipe in a regular pot or in a slow cooker. Be sure to place the dried beans in water overnight to make them softer.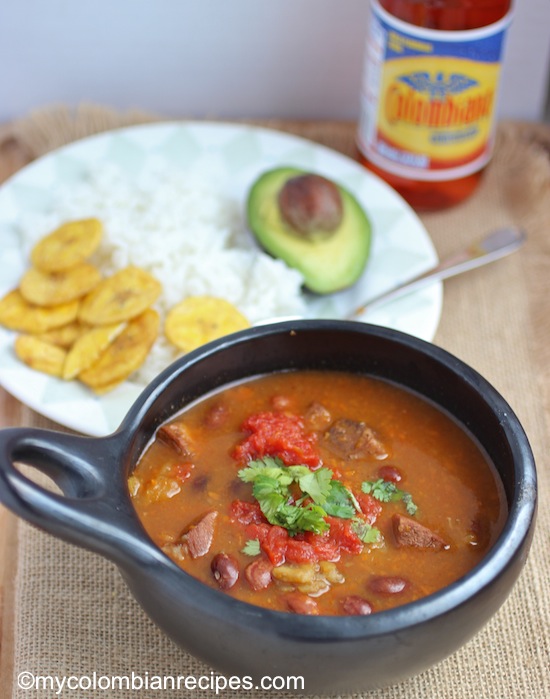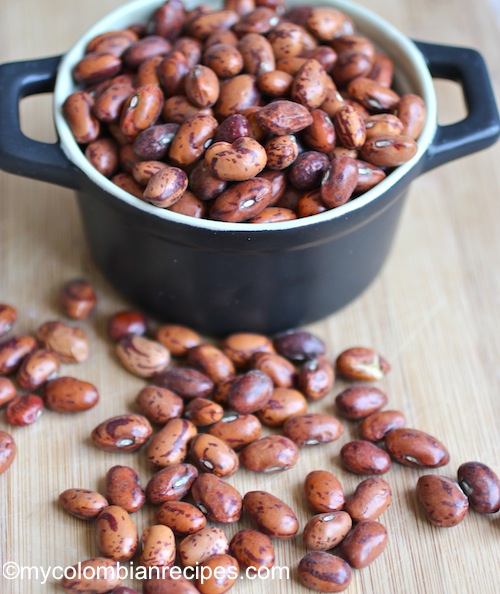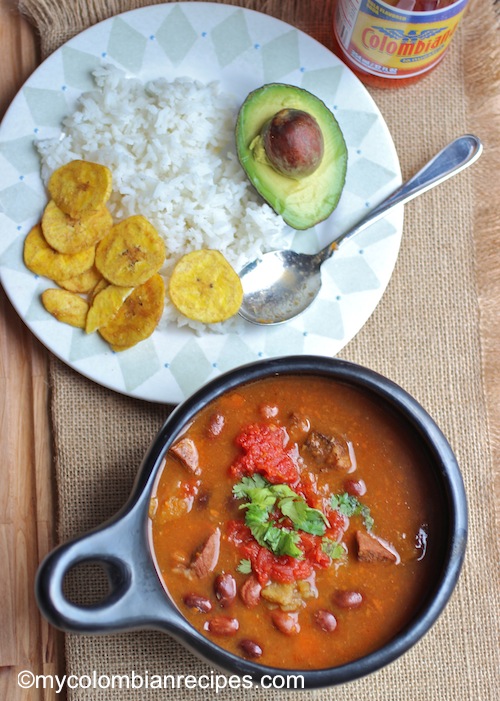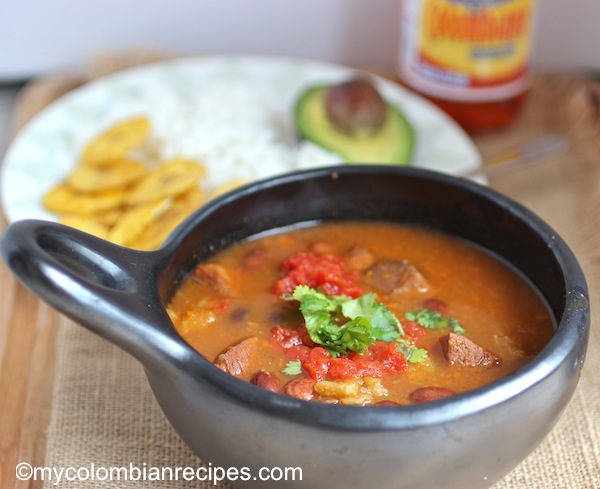 Beans recipes you must try: