Chicharrón is a poular dish in Latin America and every country has its own version. This the Colombian-Style Chicharrón and a part of the popular Bandeja Paisa.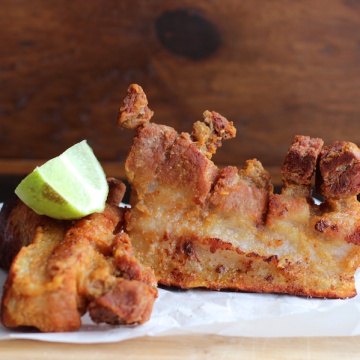 Colombian-Style Fried Pork Belly (Chicharrón Colombiano)
Ingredients
3

pounds

pork belly with meat

washed and cut into pieces

1

teaspoon

of baking powder

¼

teaspoon

baking soda

½

teaspoon

salt

2

cups

water
Instructions
Place the pork belly pieces, skin side down on a work surface and then make 1 ½ inch crosswise cuts on each piece, being careful not to cut through the skin.

Rub the pork belly strips with baking powder and baking soda and place in a medium saucepan. Add the water and salt. Cook over medium-low heat until the water evaporates stirring often.

When all the water is evaporated increase the heat to medium and cook the chicharrones for about 15 to 25 minutes or until they are golden and crispy.
Notes
What kind meat is use to make chicharrón: Pork belly with skin and a lot of meat.
I cook the chicharrón fot this recipe using the water method and fry the pork belly in its own fat.
I rub the pork belly with a mixture of baking soda and baking powder to make the chicharrón very crispy.
Nutrition
Calories:
1175
kcal
Carbohydrates:
1
g
Protein:
21
g
Fat:
120
g
Saturated Fat:
44
g
Polyunsaturated Fat:
13
g
Monounsaturated Fat:
56
g
Cholesterol:
163
mg
Sodium:
387
mg
Potassium:
420
mg
Fiber:
1
g
Vitamin A:
23
IU
Vitamin C:
1
mg
Calcium:
53
mg
Iron:
1
mg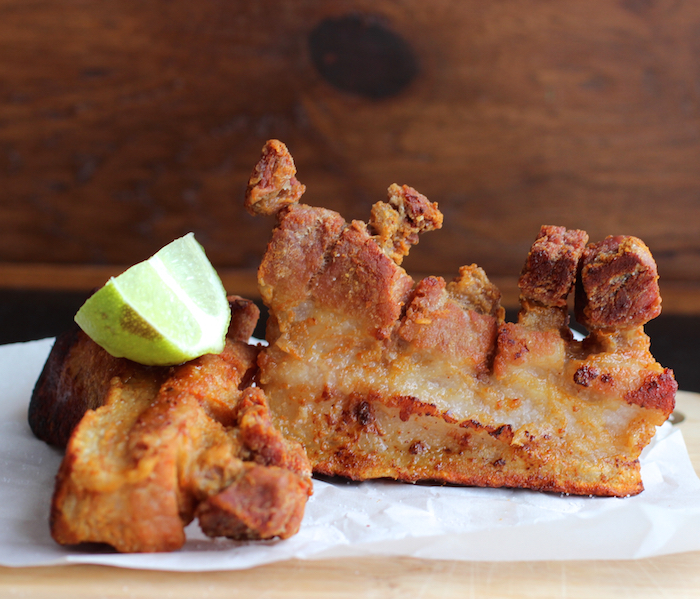 Food represents heritage and tradition for Colombians. I was lucky to grow up in a family who loves to cook and memories of cooking and eating together are in my mind and my heart. Every time I cook, eat or smell traditional Colombian food, I am reminded of my country and my family.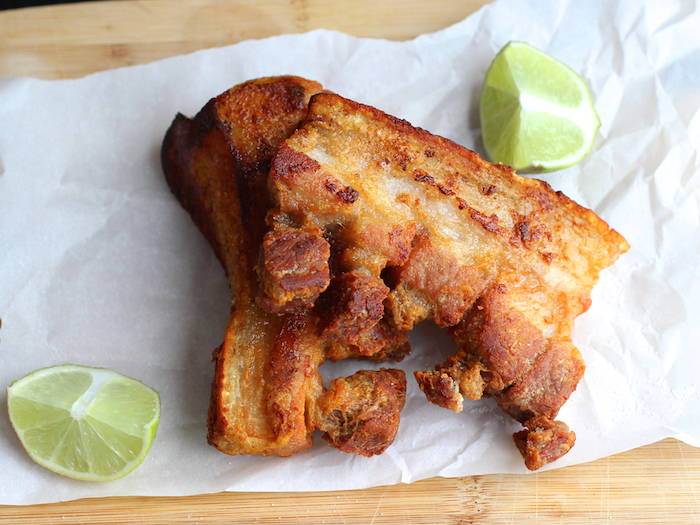 Chicharrón or fried pork belly is a typical Colombian dish from the Andean region of Colombia and is one of the main components of the famous "Bandeja Paisa". If you are counting calories, I wouldn't eat Chicharrón every day, but if you make a Bandeja paisa you have to include it. You can find pork bellies in the United States in Latin or Asian supermarkets. Colombian Chicharrón is also delicious served with arepa or as part of picada or fritanga.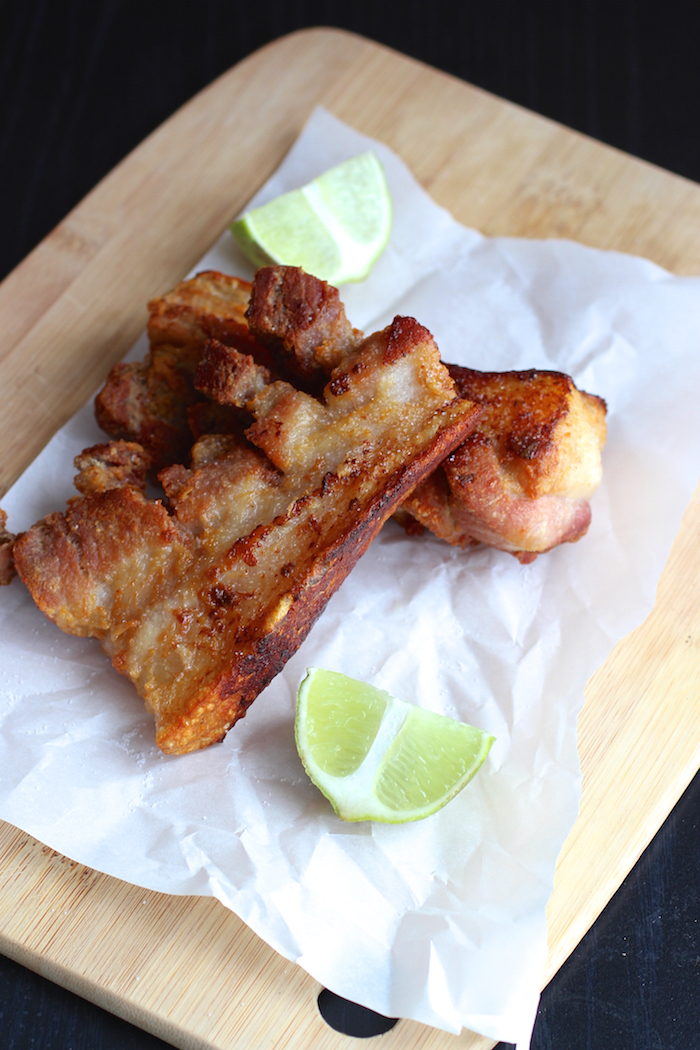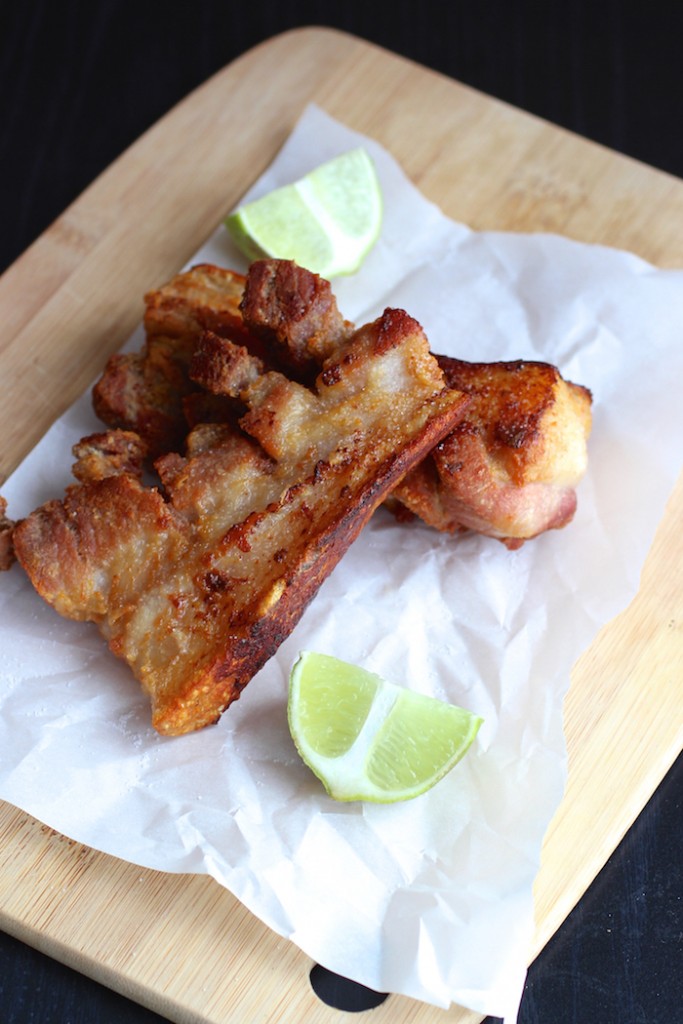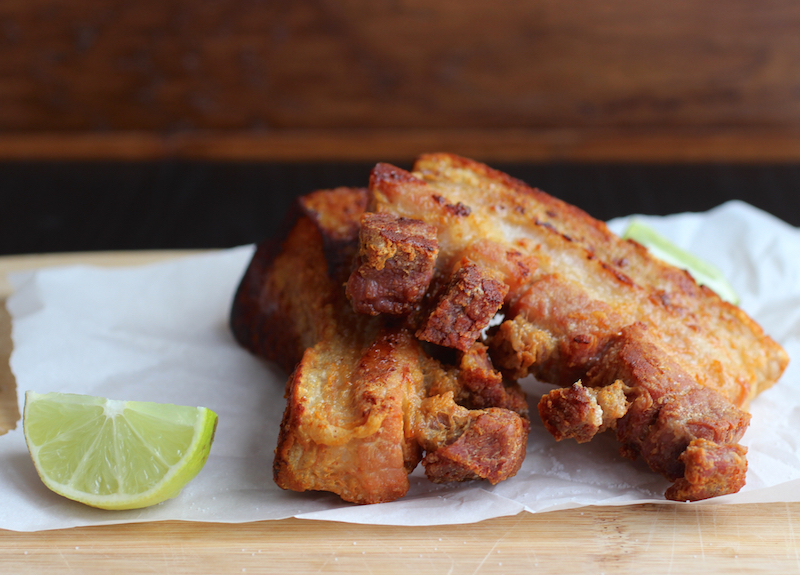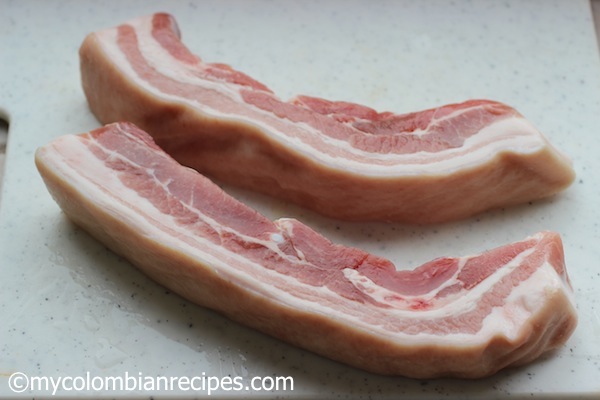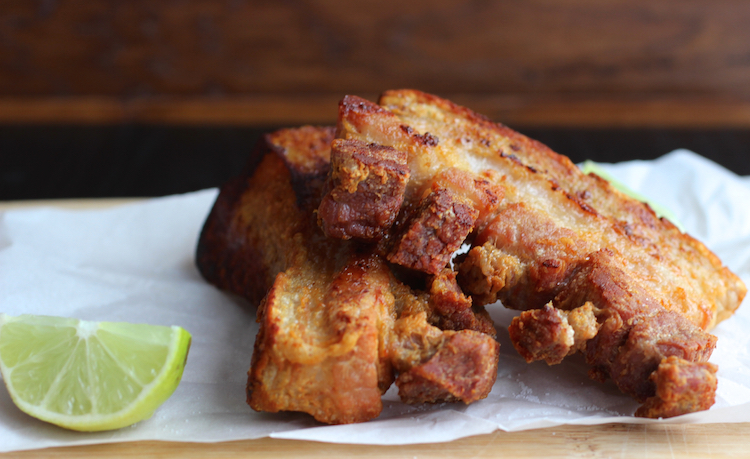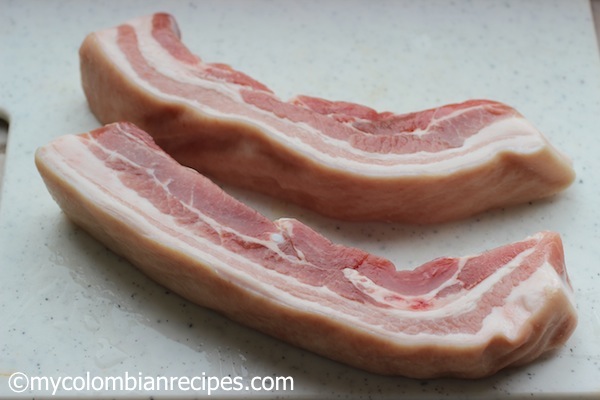 Other recipes to make the famous Colombian dish"Bandeja Paisa":
Frijoles (Colombian Style Beans)