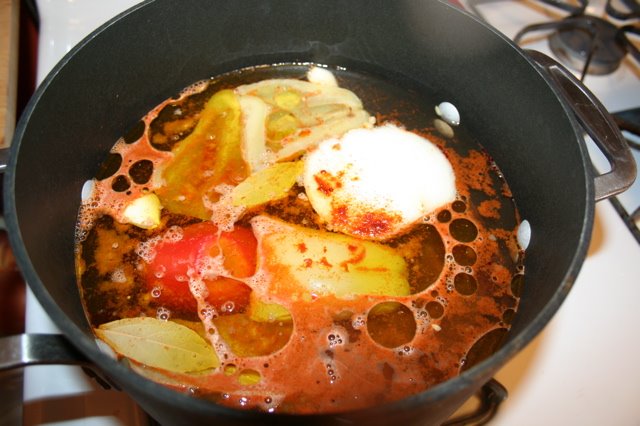 Guest posting today and sharing her delicious recipe is Diana from "A Little bit of Spain in Iowa". Diana has a beautiful blog filled with wonderful Spanish recipes and gardening tips.
~Erica
First of all, I wanted to thank Erica for asking me to guest post on her blog. I absolutely adore her blog, recipes and love for her country! I have made so many of her recipes and they always please my entire family.
I wanted to share a Spanish recipe unique to my Spanish heritage. This has to be one of my favorite Spanish comfort foods. This is a recipe that I have grown up with and could eat every day if I had to. It's a super easy recipe and my boys really enjoy it. I do want to apologize in advance for the picture as it was one of my first posts when I started blogging.
Lentejas
* 1 cup lentil beans
* 1/2 cup white rice
* 1 Palacios Chorizo Sausage
* 1 green pepper sliced in half, (this is where I used my frozen peppers from last seasons harvest!)
* 1/2 white onion
* 3-5 garlic cloves
* 1 tomato
* 2 bay leaves
* (Un choreon de aciete) A good drizzle of Olive Oil (about 3-4 tbl)
* 2 tsp Pimenton, Spanish Smoked Paprika
Chorizo Sausage and Pimenton are two staple spanish ingredients in this recipe.
Chorizo is a dry/cured sausage that is found in every local bar and household in Spain. The taste is amazing. In Spain, they sell different varieties of Chorizo. Some that can be cut into thin slices and eaten in sandwiches (bocadillos or montaditos), and other varieties that are meant to be used for cooking in stews. Here in the states, it's difficult to find a good sandwich Chorizo. One of the only producers is found in California, La Espanola Meats. They are a manufacturer of premium Spanish-style sausages and cured meat products. Locally, Gateway Market sells Palacios Chorizo. Which is a harder Chorizo sausage perfect for stews.
Pimenton, is a Spanish Paprika. This paprika gives great taste to foods especially when used in stews! After trying a Spanish Paprika, you'll never buy the tasteless stuff found in the U.S. This can also be found at our local Gateway Market or online at latienda.com.
1. In a large pot put the lentil beans, chorizo sausage, green pepper, tomato, onion, garlic cloves, and 2 bay leaves.
2. Cover with water 2 inches above the beans, sausage and vegetables.
3. Mix in the Olive Oil and Smoked Paprika.
4. Bring to a boil and simmer for 30 -40 minutes until the lentils are tender.
5. Once the lentils are tender, add the white rice and simmer for an additional 20 minutes until the rice is tender.
*Note – if your water starts to evaporate too much, add some 😉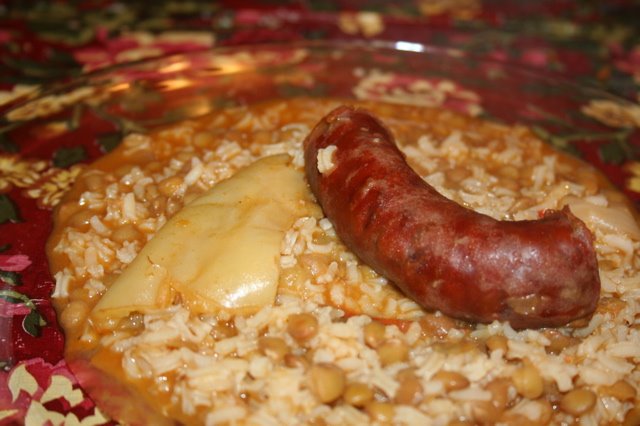 Super Easy! No dicing of vegetables needed!! Just slice them in half and add them in. My favorite thing about this recipe is that it tastes wonderful the day after! This meal tastes great with a green salad and crusty bread. Enjoy!!
This was printed from MyColombianRecipes.com