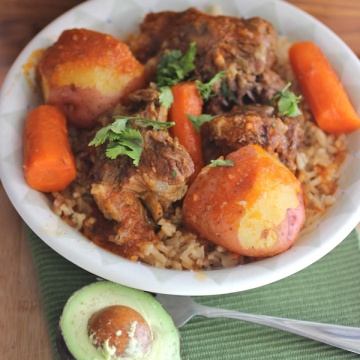 Guiso de Cola (Colombian-Style Oxtail Stew)
Ingredients
4

pounds

oxtails

Salt and pepper

1

onion

chopped

3

scallions

chopped

4

garlic cloves

chopped

3

cups

of beef broth

1

cup

crushed tomatoes

2

carrots

cut into large pieces

8

small red potatoes

partially peeled

½

teaspoon

ground cumin

¼

teaspoon

ground achiote

¼

cup

fresh cilantro
Instructions
In a large pot, add oxtails, season with salt and pepper, add the onions, scallions, garlic and marinate at least 4 hours or overnight in the refrigerator, stirring occasionally.

Add enough water to just cover the oxtails and bring the mixture to a boil. Lower to a simmer, cover and cook for about 2 hours, add more water if necessary.

dd the broth, tomatoes and beef broth. Bring to a boil then simmer for about 1 hour and 30 minutes, stirring occasionally.

Add the carrots, potatoes, cumin and achiote. Cook for 30 minutes more or until everything is tender. Sprinkle on fresh cilantro and serve with white rice.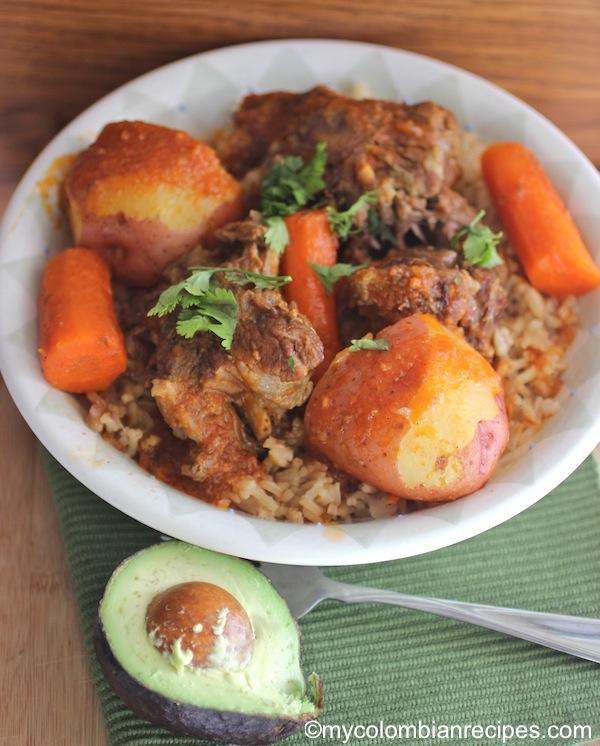 This Guiso de Cola is not a quick weeknight meal, by any means, but it is most certainly a "make your house smell amazing" weekend kind of meal. It also makes for terrific leftovers!
This Oxtail Stew is one of the most comforting dishes I know. A classic Colombian dish made with oxtails simmered in stock with carrots, onions, tomatoes, spices, potatoes and herbs.
This simple Colombian dish is usually served with plain white rice, the perfect partner for soaking up the delicious sauce. The taste of this Guiso de Cola is divine, succulent and rich, with fork-tender meat that falls off the bone and melts in your mouth.
Buen provecho!