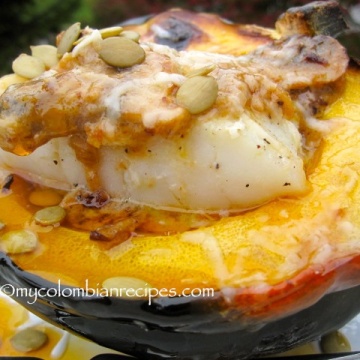 Spicy Cod Fillet with Coconut-Squash Sauce Over Roasted Acorn Squash
Ingredients
2

shallots

finely chopped

2

tablespoons

of butter

2

cloves

garlic

minced

Salt and pepper to taste

1

cup

of portobello mushrooms

sliced

½

teaspoon

of ground thyme

½

cup

butternut squash

cooked

1

cup

of coconut milk

½

cup

parmesan cheese

Pumpkin seeds for garnish
For the Fish
2

5 to 6 ounce pieces skinless cod fillet

Salt and black pepper

¼

teaspoon of ground cumin

1

tbsp

of butter

1

tbsp

of olive oil

¼

teaspoon

red pepper flakes

2

garlic cloves, minced
For the Squash:
2

acorn squash, about 1 pound each

Salt and fresh ground black pepper

¼

cup

olive oil

¼

cup

brown sugar
Instructions
To roast the squash: Preheat the oven to 375 degrees F.

Cut the squash in half and scrape out the seeds with a spoon.

Set the squash halves on a baking sheet, cut sides up, and sprinkle with salt and pepper. Drizzle with olive oil and sprinkle the brown sugar on top. Bake until tender abut 45 minutes.

Cook fish and sauce while squash finishes roasting: Pat fish dry and sprinkle with cumin, salt and pepper. Heat butter and oil in a sauce pan over medium heat, add the red pepper flakes, garlic and cook for 2 minutes. Add the fish and sautué, turning over once, until browned, just cooked through, 6 to 8 minutes total.

Transfer the fish to a plate and set aside. To make the sauce In the same pan heat the butter over medium heat. Add shallots, garlic, salt, pepper and thyme and cook 4 minutes, stirring occasionally. Add the mushrooms and cook for 5 minutes, or until soft, stirring occasionally.

Place the coconut milk and butternut squash in the blender and blend until smooth. Add the coconut milk-squash mixture to the pan, increase the heat to high and bring to a boil. Reduce the heat to medium low and simmer, stirring constantly with a wooden spoon, about 5 minutes.

To serve: Place one the fillets on top of the roasted squash halves, drizzle the sauce over top and sprinkle with parmesan cheese. Place in the oven for about 5 minutes or until the cheese is melted.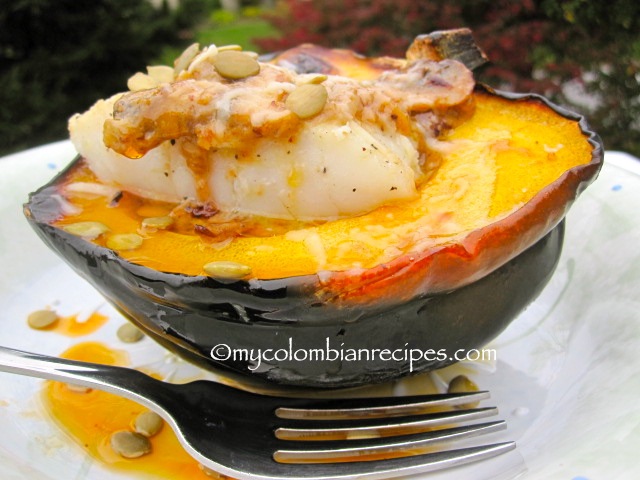 This group, of which I am a part, comes together once a month to try something new in the kitchen! Each month we have a different challenge where we have to create a dish using an ingredient or theme assigned. I only joined the group this month and I am very excited about it. All I can say is it's going to be a lot of fun! The challenges are always due at the end of the month, and this month the theme is squash, so look forward to many great squash dishes.
One of my favorite ways to cook squash is to oven roast it. It doesn't require a whole lot of effort and it always turns out delicious. But since this is a 5 star makeover, I decided to top my roasted acorn squash with a piece of beautiful cod fish and a coconut-squash sauce. Then I added some parmesan cheese, returned it to the oven, sprinkled on some pumpkin seeds for crunch, and the result was fantastic. I love the combination of spicy and sweet.
To see the other bloggers' 5 Star makeover's, simply visit one of the links below on Friday. Buen provecho!