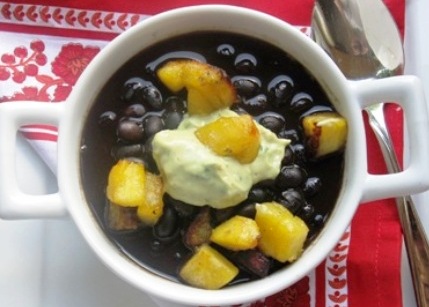 Three favorite ingredients of Colombian Cuisine are featured in this delicious soup; beans, sweet plantain and avocado. This is a complete vegetarian one-pot meal and all that it requires as an accompaniment is white rice. Enjoy!
Ingredients
(6-8 Servings)
Beans
1 pound black beans
12 cups water
3 cloves garlic, mashed
½ cup chopped white onion
1 scallion, chopped
½ cup red bell pepper, chopped
½ cup green pepper, chopped
3 tablespoons olive oil
Salt and black pepper
½ teaspoon ground cumin
½ teaspoon dried oregano
½ cup chopped fresh cilantro
1 vegetable or chicken bouillon tablet
¼ cup tomato puree
1 ripe plantain, peeled and diced
Cream
1 avocado, peeled and pitted
½ cup sour cream
Juice of 1 lime
1 teaspoon ground cumin
Salt and pepper
Directions
Wash the beans and discard any debris. Place the washed beans in large pot and cover with 10 cups water. Let it sit overnight or for at least 5 hours.
In a medium sauce pan, heat the olive oil over medium-high heat. Then add the onion, garlic, scallion, red bell pepper and green pepper. Cook for 5 to 7 minutes or until onions are translucent.
Bring the beans to a boil then add the vegetable mixture, ground cumin, oregano and bouillon tablet. Cover and reduce the heat to low and cook for 1 hour.
Add cilantro, tomato puree, salt and black pepper. Cover and cook for another 60 minutes or until the beans are tender.
To make the cream: In a food processor, combine all the ingredients and process until smooth consistency.
Place the diced plantains on a large skillet with 1 tablespoon vegetable oil and cook until golden.
Ladle the beans in a bowl and top with plantains and avocado cream.
This was printed from MyColombianRecipes.com