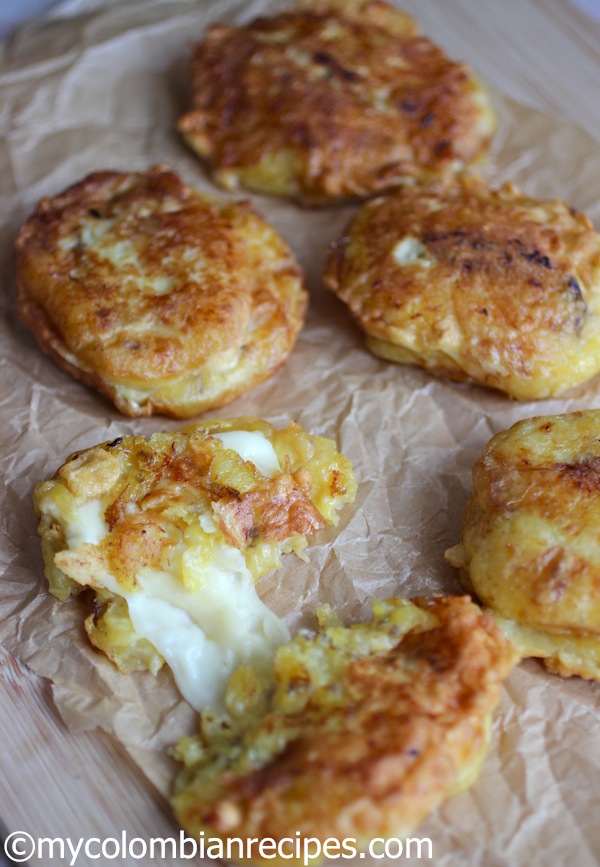 This delicious side dish or snack Aborrajados can be prepared in different ways. If you like, you can add some guava paste between the plantains to go along with the cheese.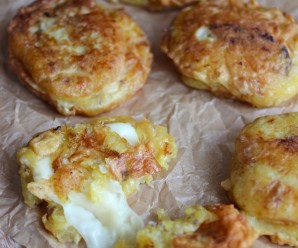 Aborrajados de Plátano (Ripe Plantain Fritters)
Ingredients
Vegetable oil for frying

8

mozzarella cheese slices about 2" x ½" and ½ "thick
For the batter:
2

eggs

4

tablespoons

all-purpose flour

2

tablespoon

sugar

2

tablespoons

milk

Pinch

salt
Instructions
Peel the plantains and cut cross-wise into 8, 1 ½" chunks.

Fill a large pot one-third full with vegetable oil and heat to 360°.

Add the plantain chunks into the hot oil and fry them about 3 minutes or until golden.

Meanwhile, make the batter: mix the flour, sugar and salt in a small bowl. Add the eggs. Gradually, stir in the milk to make a smooth batter. Cover with plastic wrap and set aside.

Remove the plantains with a slotted spoon and drain on paper towels.

Place the plantain chunks onto pieces of parchment paper or plastic and flatten them to ¼" thickness.

Place 1 cheese slice in the center of one plantain pattie and cover with another pattie, like making a sandwich, and press the edges of the plantain sandwich to enclose the cheese completely.

Dip the sandwich in the batter and add to the oil, in batches. Fry for 1 minute on each side or until golden brown. Remove with a slotted spoon and drain on paper towels. Serve warm.
Aborrajados is one of those recipes I watched my grandmother make throughout my life. As you've probably noticed, there are a lot of plantain recipes in Colombian cuisine and this one is very traditional.