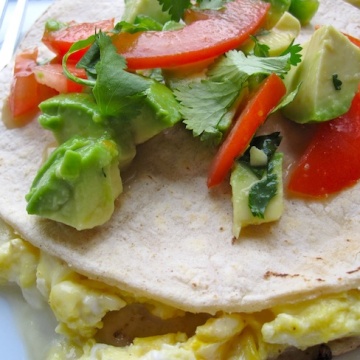 Quesadilla para el Desayuno (Breakfast Quesadilla)
Ingredients
Cooking Spray or olive oil

4

small corn tortillas

3

scrambled eggs

1

small avocado

peeled and diced

Salt and pepper

1 to

mato sliced

¼

cup

fresh cilantro

chopped

Juice of 1 lime

1

cup

shredded monterrey jack cheese
Instructions
On a work surface, spread 2 of the tortillas. Spoon half of the scrambled eggs over the bottom of each tortilla. Sprinkle half of the cheese.

Top with another tortilla.

Heat a large nonstick skillet with cooking spray over medium heat. Carefully place 1 quesadilla in pan and cook 2 minutes.

Using a spatula, gently flip the quesadilla and cook an additional 2 minutes until lightly browned and the cheese is melted. Repeat with second quesadilla.

In a small bowl: mix the avocado, cilantro, lime juice, salt and pepper. Top the quesadillas with tomato slices and avocado mixture. Serve immediately with your favorite salsa.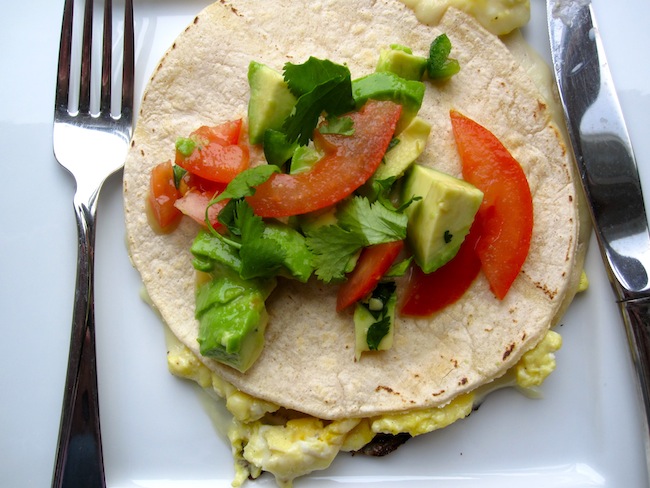 Corn and flour tortillas are a staple in my pantry. I love making quesadillas, enchiladas, tacos, homemade chips with salsa, burritos, etc. Quesadillas are a quick and delicious lunch, and the variations are endless. I made these quesadillas for breakfast just the other day and they were absolutely fantastic.
Buen provecho!