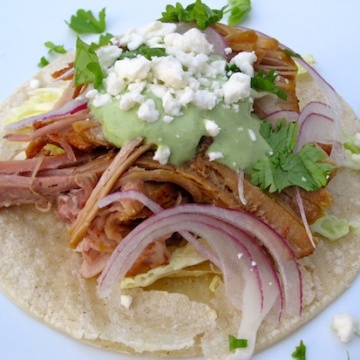 Shredded Pork Tacos with Jalapeño-Cilantro Sauce
Ingredients
4

pounds

of pork shoulder

3

cups

water

1

onion

chopped

7

garlic cloves

3

scallion

chopped

½

cup

red bell pepper

chopped

½

cup

green pepper

chopped

1

teaspoon

ground cumin

¼

teaspoon

chile powder

Salt and pepper

1

cup

crema fresca or creme fraiche

2

tablespoon

mayonnaise

1

jalapeuño pepper

1

cup

fresh cilantro

Juice of 1 lime

¼

teaspoon

ground cumin

Salt and pepper

Corn tortillas

1

cup

sliced cabbage

½

cup

queso fresco

1

red onion thinly sliced

Fresh cilantro
Instructions
In a blender, mix the jalapeuño, cilantro, crema fresca, mayonnaise, cumin, salt, pepper and the lime juice.

Divide the pork and cabbage evenly among the tortillas. Drizzle with the jalapeuño sauce and top with the sliced red onion.

Garnish with the cilantro and queso fresco and serve immediately.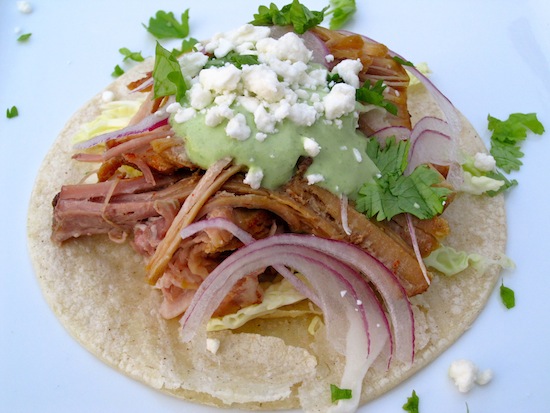 I am not Mexican but I love Mexican food. I think I have an obsession with Tacos (see here, here, here, here, and here). I cooked the pork using my slow cooker and it was moist and delicious.
Imagine pork shoulder, slow cooked until it falls apart and flavorful as can be. Imagine a spicy jalapeño-cilantro sauce, the flavor of red onion and queso fresco to go along with that tender pork. Now imagine it all in one amazingly flavorful bite.
These tacos are the perfect meal with a Corona beer and flan for dessert. Of course if you are listening to mariachi music it will super special, just like being in Mexico!
Buen proveho!