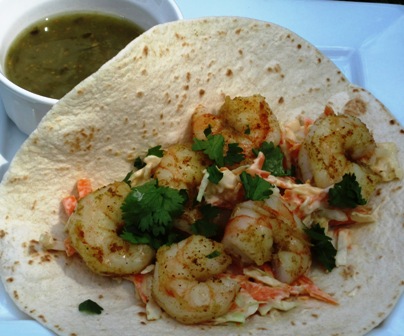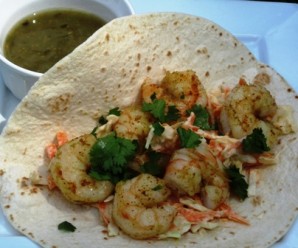 Shrimp Tacos with Chipotle Slaw
Ingredients
24

medium shrimp

peeled and deveined

Salt and pepper

1

tablespoon

ground cumin

1

tablespoon

olive oil

8 to

rtillas

1

lime

½

cup

fresh cilantro

chopped

3

cups

cabbage

thinly sliced

2

cups

carrot

thinly sliced

2

tablespoons

grated onion

¼

cup

heavy cream

½

cup

mayonnaise

3

teaspoons

chipotle pepper

Salt
Instructions
To make the slaw: In a medium bowl combine the mayonnaise, heavy cream, chipotle pepper and salt.

Add the cabbage, carrots and onions to the mayo mixture and mix well. Set aside

In a medium bowl mix the cumin, olive oil, lime juice, salt and pepper. Add the shrimp and toss to coat.

Place the shrimp in a large skillet over medium-high heat. Cook for about 2 minutes on each side or until the shrimp are cooked.

To serve, spoon chipotle slaw on the tortilla, then top with shrimp and fresh cilantro.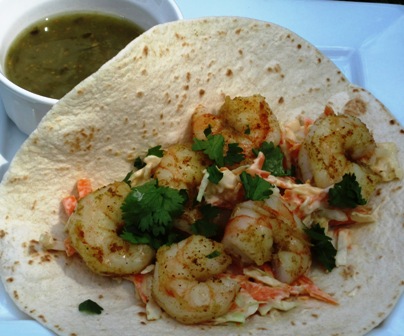 I finally saw Julie and Julia and I liked very much. It is such an inspiring movie for food bloggers. I went to the movies by myself for the first time in my life and I really enjoyed it. It's not that I don't like going to the movies with my husband 🙂 but Julie and Julia is not the kind of movie he would see at the theater and I couldn't wait to see it on DVD. Anyway, go and see the movie, the actors did a great job!
Enjoy these delicious shrimp tacos with chipotle slaw. They are absolutely delicious.