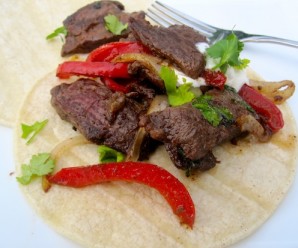 Fajitas de Carne (Steak Fajitas)
Ingredients
2

pounds

skirt steak

trimmed

2

large red bell peppers

sliced

1

large onion

sliced

Olive oil

12 to

rtillas

warmed

Sour cream

optional

Fresh cilantro

1

garlic clove

minced

¼

cup

chopped onion

1

scallion

½

teaspoon

ground cumin

Salt and pepper

3

tablespoons

water
Instructions
To make the marinade: Place all the ingredients in a blender and blend until smooth. Place the steak and marinade in a plastic bag. Seal the bag and refrigerate for at least 3 hours, up to overnight.

Heat a large skillet on medium-high heat and warm 1 tablespoon of the olive oil. Add the bell peppers, onion, salt and pepper, and cook until tender, about 8 to 10 minutes. Transfer to a plate.

Using a damp paper towel, wipe out the skillet. Keeping the heat on medium-high, warm 1 Tablespoon olive oil.

Remove the steak from the marinade and cut into ½-inch-thick slices.

Place the steak in the skillet. Cook, turning once, 3 to 4 minutes per side for medium-rare, or until done to your liking.

eturn the peppers and onion to the skillet and stir together to warm through.

To assemble the fajitas, place a warmed tortilla on a plate. Add a few slices of steak, some peppers, onion and sour cream, if using, and sprinkle with cilantro. Serve with rice, beans, guacamole and salsa on the side

Repeat to assemble the remaining fajitas.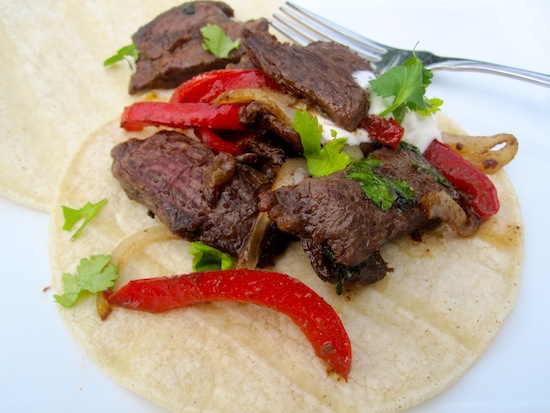 I had a craving for Mexican food the other day, which happens quite often 🙂 I absolutely love Mexican cuisine and now my sister Catalina is living in Mexico. While talking to her last week on the phone, she told me just how wonderful true Mexican food is and of the delicious flavors. I was pretty much drooling the whole conversation.
After talking to her I decided to make one of my favorite Mexican dishes "Fajitas de Carne", and I have to say, they were absolutely fantastic! Viva Mexico and their delicious food 🙂
Buen provecho amigos!