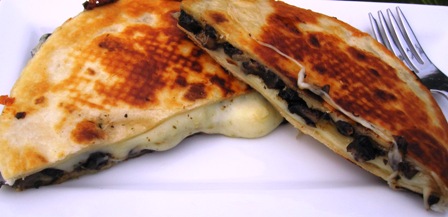 I love to make quesadillas, mainly because they are versatile. You can play with so many of your favorite ingredients and create an absolutely delicious quesadilla. I made this mushroom quesadillas tonight for dinner and my husband loved them. It is a great vegetarian dish. Enjoy!
Ingredients
(4 Servings)
¼ cup olive oil
6 oz Portobello mushrooms, chopped
½ cup finely chopped onion
2 garlic cloves, minced
Salt and pepper
2 tablespoon finely chopped fresh thyme
3 tablespoons finely chopped fresh parsley
4 slices provolone cheese
4 slices mozzarella cheese
1 ½ cups grated Monterey jack cheese
8 small flour tortillas
Directions
In a medium sauce pan heat the olive oil over medium-high heat. Add the onions and garlic. Cook about 5 minutes or until the onions are translucent.
Add the mushrooms, thyme, salt and pepper and cook for about 7 minutes more.
On a work surface, spread 4 of the tortillas. Sprinkle the Monterey jack cheese over the bottom of each tortilla. Spoon evenly the mushroom mixture on top of the cheese, then top with provolone and mozzarella cheese. Top with another tortilla.
Heat a large nonstick skillet with cooking spray over medium heat. Carefully place 1 quesadilla in pan and cook 2 minutes. Using a spatula, gently flip the quesadilla and cook an additional 2 minutes until lightly browned and cheese is melted. Repeat with second quesadilla. Serve warm.
This was printed from MyColombianRecipes.com