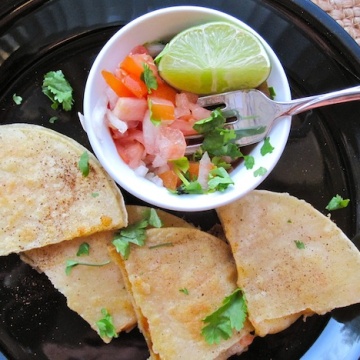 Quesadillas de Camarones (Shrimp Quesadillas)
Ingredients
Olive oil

12

medium shrimp

peeled and deveined

1

tablespoon

of lime juice

¼

teaspoon

of chile powder

¼

teaspoon

of garlic powder

¼

teaspoon

of onion powder

1

finely chopped green onion or scallion

2

Tablespoons

chopped fresh cilantro

Salt and pepper

Flour or corn tortillas

½

cup

shredded Monterrey Jack cheese

½

cup

shredded cheddar cheese
Instructions
Place the shrimp in a medium bowl and add the lime juice, 1 tablespoon olive oil, chile powder, garlic powder, salt, pepper and onion powder. Mix well and place in the refrigerator for 5 minutes.

In a medium sauce pan heat the olive oil over medium-high heat. Add the shrimp. Cook about 5 minutes or until they are cooked.

On a work surface, spread 2 of the tortillas. Sprinkle the cheese over the bottom of each tortilla. Add the shrimp evenly on top of the cheese, sprinkle with scallions, then top with cilantro. Top with another tortilla.

Heat a large nonstick skillet with cooking spray over medium heat. Carefully place 1 quesadilla in pan and cook 2 minutes.

Using a spatula, gently flip the quesadilla and cook an additional 2 minutes until lightly browned and cheese is melted. Repeat with second quesadilla.

Serve warm with salsa.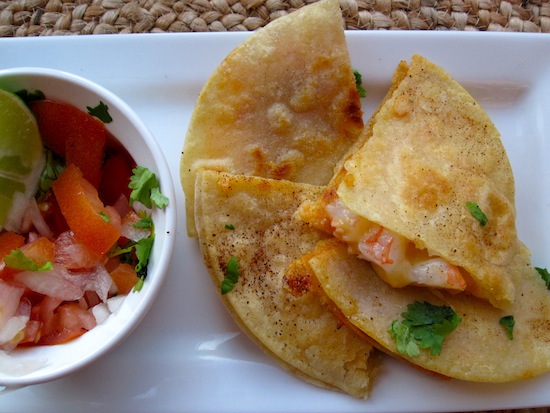 Quesadillas are a popular dish here in the States. I see them on lot of restaurant menus, and for me, it is an incredibly simple, quick, versatile and delicious dish to make at home too.
Why not make these Shrimp quesadillas for dinner tonight? I used corn tortillas for my quesadillas, but people usually make them with flour tortillas. So, you can use the tortillas of your choice.
Buen provecho!