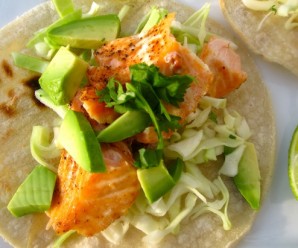 Simple Salmon Tacos
Ingredients
2

pounds

salmon

½

teaspoon

onion powder

¼

teaspoon

chili powder

½

teaspoon

garlic powder

½

teaspoon

cumin

Salt and pepper

¼

cup

sour cream

1 ½

cups

shredded cabbage

2

avocados

Juice of 2 limes

¼

cup

chopped fresh cilantro

Favorite salsa to serve
Instructions
Preheat the oven to 400°F.

In a large baking dish place the salmon fillets. Season with cumin, onion powder, chili powder, garlic powder, salt and pepper.

Place the baking dish in the oven and bake for 15 to 20 minutes or until the salmon is cooked through.

Heat the tortillas on a nonstick skillet, then wrap them in aluminum foil to keep them warm.To assemble: spread one tortilla with sour cream, then top with cabbage, salmon, avocado and fresh cilantro. Season with salt and pepper to taste and drizzle lime juice on top. Repeat the process with the remaining tortillas or just let every person assemble their own tacos.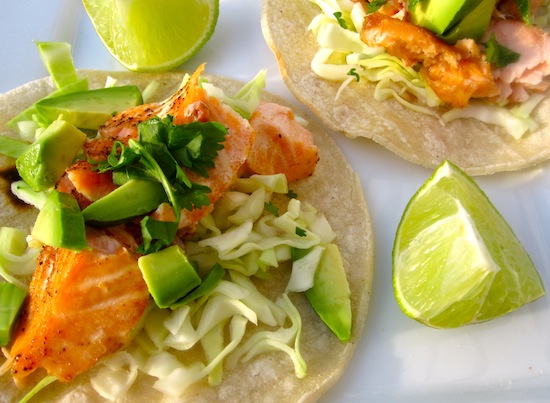 I love all types of Mexican food, but tacos are my first choice on any Mexican menu. Tacos are so versatile you can filled them with anything, seafood, chicken, vegetables, pork, beef, beans or eggs. I am not an expert preparing the delicious food of this country, but I surely enjoy cooking it.
These salmon tacos are simple and really good! They make the perfect lunch. Serve with tomatillo sauce or red salsa.
What is your favorite Mexican dish?