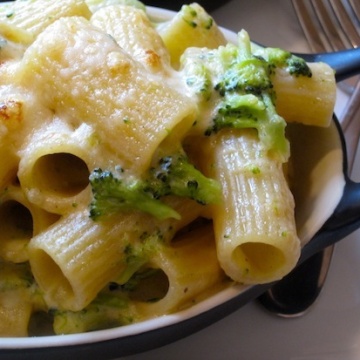 Pasta with Cheese and Broccoli
Ingredients
1

pound

dried pasta

2

pounds

of broccoli flowers

4

tablespoons

butter

½

cup

chopped onion

1

garlic clove

finely chopped

1

cup

milk

½

cup

chicken or vegetable broth

3

tablespoons

all purpose flour

½

teaspoon

mustard

¼

teaspoon

paprika

¼

teaspoon

ground cumin

1

cup

heavy cream

¼

cup

cream cheese

½

cup

cheddar cheese

½

cup

parmesan cheese

Salt and pepper
Instructions
Cook the broccoli in boiling salted water. Remove the broccoli from the water using a slotted spoon and set aside. Cook the pasta in the same water until al dente. Drain well and keep warm.

While pasta cooks, heat butter in a large saucepan over medium heat. Add the onions and cook for 3 minutes, add the garlic and cook for 1 more minute, stirring occasionally. Add the flour, cumin, paprika, salt and pepper. Stir well.

Whisk in milk and raise heat a little to bring to a quick boil. Add the broth, mustard and heavy cream. Simmer sauce to thicken, about 5 minutes. Add the cream cheese and stir well.

Add the broccoli, cheddar and parmesan cheese and stir to combine. Drain pasta and add to the sauce.

Preheat the oven to 400F.

Transfer the pasta to individual baking casseroles and bake for 15 minutes, then turn the oven to broil and cook, 2 to 3 minutes. Serve warm.
Nutrition
Calories:
935
kcal
Carbohydrates:
113
g
Protein:
35
g
Fat:
40
g
Saturated Fat:
23
g
Polyunsaturated Fat:
2
g
Monounsaturated Fat:
10
g
Cholesterol:
114
mg
Sodium:
591
mg
Potassium:
1226
mg
Fiber:
10
g
Sugar:
14
g
Vitamin A:
2854
IU
Vitamin C:
205
mg
Calcium:
533
mg
Iron:
4
mg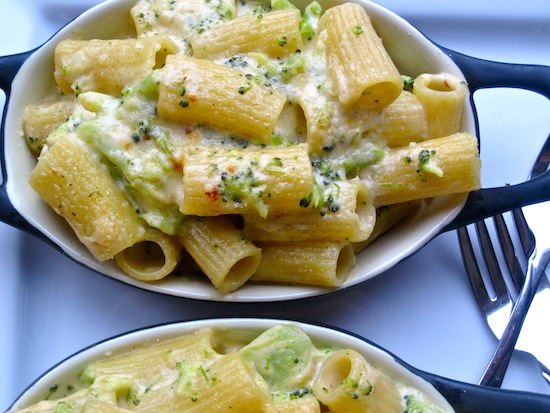 A couple of weeks ago, having not gone to the market yet that week, I was trying to figure out what to make for dinner. I didn't have a lot of food in the fridge and the only vegetable I had was broccoli.
Whenever I spend too much time trying to figure out what to make for dinner, dinner usually results in pasta! Well, it is versatile, easy and delicious.
Here is the recipe for my Pasta with Cheese and Broccoli. Simple, quick and a crowd pleaser! Try it!