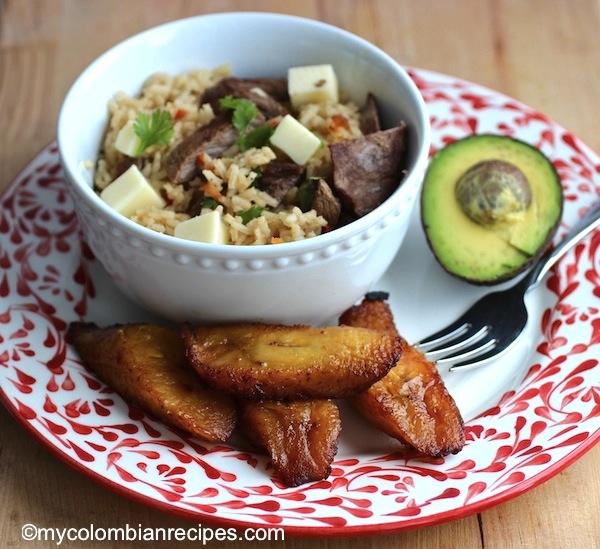 I can't believe we're already halfway through August. This summer has seriously flown by! We had a wonderful summer vacation and now we're getting ready for school. I hope you enjoyed the warm weather and had a great summer as well!
Today, I want to introduce to you another Colombian recipe from the department of El Chocó, located in the Pacific region of the country and the only department bordering both the Pacific and the Atlantic Oceans.
Arroz Atollado con Carne Ahumada is made with a combination of rice, onions, tomato, smoked beef, dried beef, spices and cheese, and served with ripe plantains and avocado on the side. I just love it! A simple rice dish with a lot of tradition, and of course, lots of Colombian flavor.
We have different variations of arroz atollado in Colombia. Some of them are Atollado de Cangrejo (crab rice), Atollado de Pato (duck rice), Atollado de Pollo y Chorizo (chicken and chorizo rice) Atollado del Valle (pork rice) and this Atollado con Carne Ahumada (rice with smoked Beef) recipe.
Buen provecho!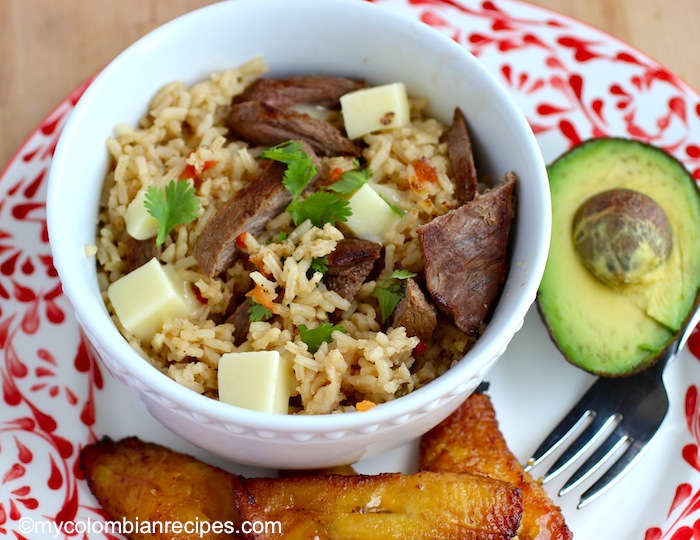 Ingredients
(4 to 6 servings)
2 tablespoons of oil 
1 onion, finely chopped
2 scallions, chopped
1/2 cup chopped tomato
1/2 teaspoon ground cumin
1/2 teaspoon ground achiote or color
Salt and pepper to your taste
1/2 pound of smoked beef cut into bite size
1/2 pound dried beef cut into bite size
1 cup rice
2 cups of beef broth
1/2 cup of mozzarella cheese or queso blanco, cubed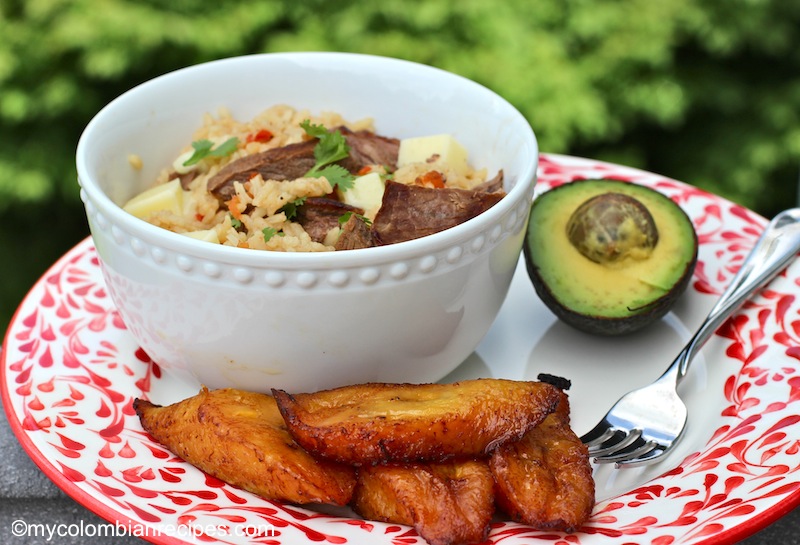 Directions
Wash the dried beef in cold water and leave it soaking for about 10 minutes. Place the meat in a medium pot with 4 cups of water and cook for about 20 minutes over medium heat.
Meanwhile heat the oil in a small saucepan, add the onions, scallions and tomatoes. Cook for about 5 minutes or until soft. Add salt and pepper to your taste and set aside.
Add the rice, cumin and achiote to the onion mixture and stir well. Add the cooked beef and beef broth. Cover and let simmer over low heat for about 25 minutes until the liquid is gone. Remove from the heat, add the cheese, stir again and cover the pan. Let it rest for about 10 minutes.
This was printed from MyColombianRecipes.com