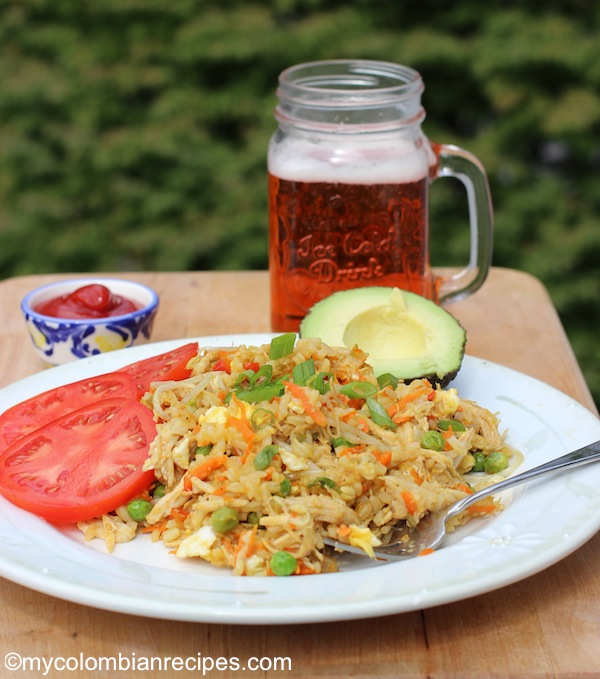 This  is the Colombian version of the world famous Chinese fried rice, and it was one of the staple dishes at our house growing up in Colombia. Colombia has Chinese restaurants every, some are poor quality and some are upscale, and this Arroz Chino is one of the most popular dishes in the country.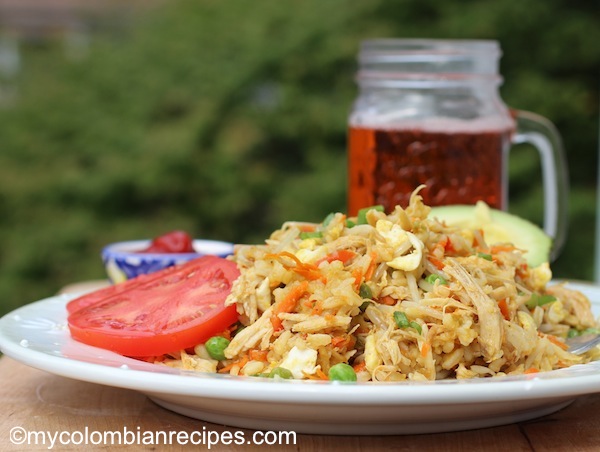 Colombian families started making their own variations at home. Colombian-Style Fried Rice or Arroz Chino al Estilo Colombiano is usually made with chicken, pork, or seafood. Some cooks add chorizo, bacon, ham, or just use plain vegetables.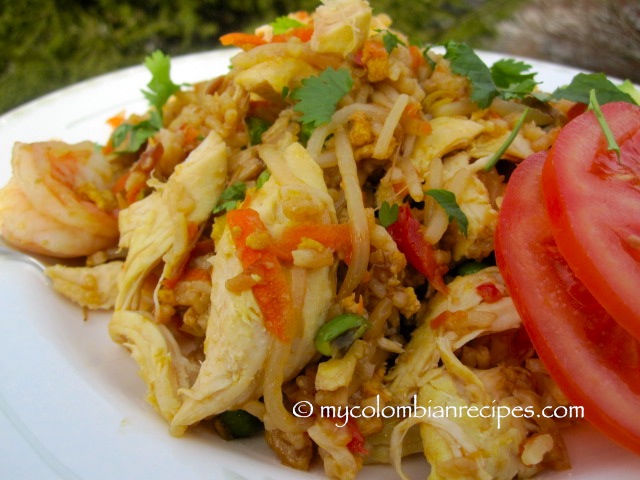 This Arroz Chino Al Estilo Colombiano dish is a combination of my Aunt Consuelo's and my mom's recipe, with my own twist. My aunt Consuelo makes hers with chicken, bacon, and shrimp, whereas my mom makes hers with only chicken and bacon, because she doesn't eat shellfish. Oh, and my mom would sometimes add hotdogs to her recipe too! Don't worry, I left out the hot dogs in my version.
Buen provecho!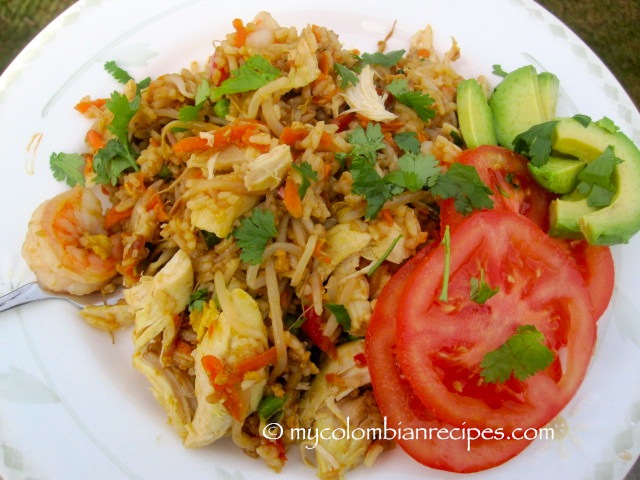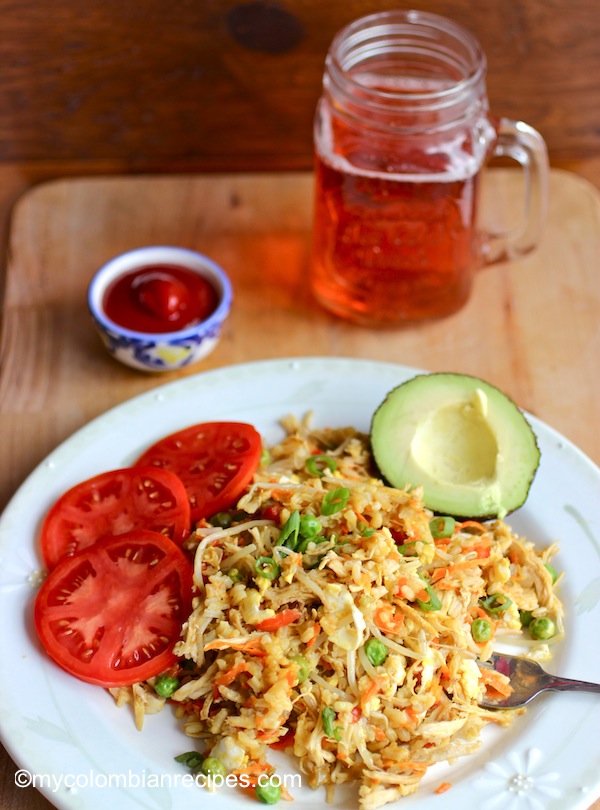 Ingredients
(4-6 servings)
Chicken and Stock

3 whole chicken breast, bone in and skin removed
2 scallions
1 white onion
2 garlic cloves
½ tablespoon ground cumin
Salt and Pepper

Arroz

2 tablespoons of butter
2 tablespoons of oil
1 medium onion, diced
4 garlic cloves, crushed
1/4 cup chopped cilantro
1 teaspoons ground cumin
1 red bell pepper, diced
1 green pepper, diced
3 cups of white rice (Cooked with chicken broth)
6 tablespoons of soy sauce
3 tablespoon of Worcesterhire sauce
1 cup cooked peas
3 large carrots, grated
3 eggs, scrambled
2 bunches of scallions, chopped
1/2 pound fresh bean sprouts
1 pound of cooked shrimp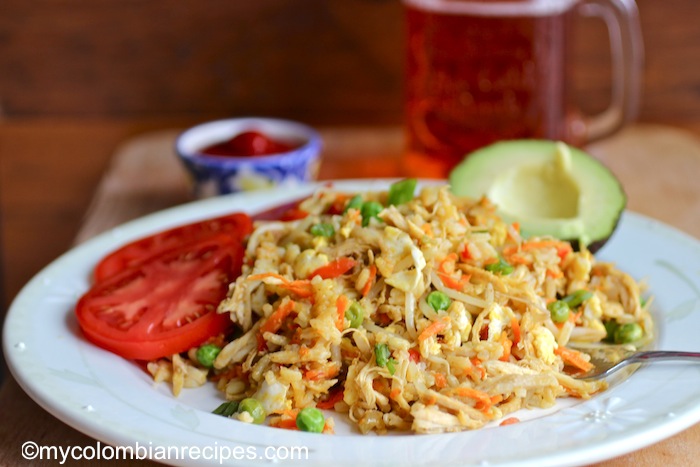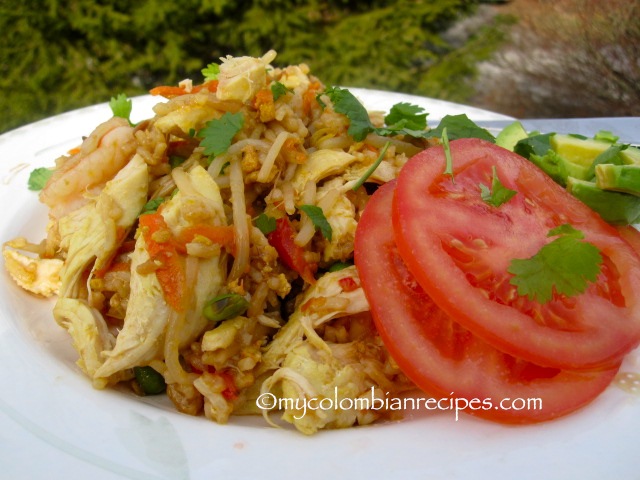 Directions
lace the chicken breast, 5 cups water and the remaining ingredients for the stock in a medium pot. Bring to a boil, cover and reduce the heat to medium low. Cook for 20 to 25 minutes. Turn the heat off and let the chicken rest in the pot for about 15 minutes covered. Let it cool, shred and set aside.
Heat the butter and oil over medium heat in a large pan. Add the chopped onions, crushed garlic, cumin, cilantro and peppers. Cook for about 5-8 minutes or until the vegetables are soft.

Add the cooked rice, shredded chicken, Worcestershire sauce, and soy sauce. Stir well and cook over medium high heat for 5 minutes, stirring occasionally.
Add the scrambled eggs, peas, carrots, scallions, green onions, bean sprouts and shrimp. Mix well and cook for about 3 minutes more.
Transfer the rice to a serving dish and garnish with fresh cilantro. Serve immediately.
This was printed from MyColombianRecipes.com