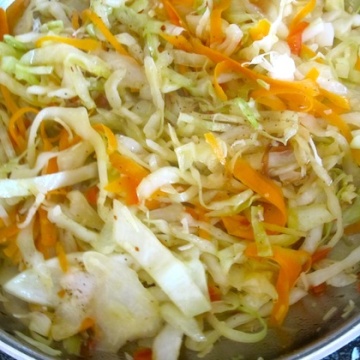 Sautéed Cabbage with Carrots and Coconut
Ingredients
4

tablespoons

olive oil

¼

teaspoon

red pepper flakes

2

scallions

finely chopped

3

garlic cloves

chopped

1

red bell pepper

thinly sliced

1

medium cabbage

cored and thinly sliced

Salt and pepper

3

shredded carrots

½

teaspoon

ground cumin

¼

cup

vegetable broth

½

cup

shredded coconut
Instructions
Place oil, red pepper flakes, scallions, garlic, red bell pepper in a large skillet over medium-high heat, stirring occasionally, until garlic is golden, about 3 minutes.

Stir in cabbage, carrots, salt, pepper and sautué for about 2 minutes. Add broth and cook, covered, until cabbage is cooked, about 3 minutes.

Add ground cumin, coconut and cook, uncovered, stirring, until most of the liquid has evaporated and cabbage is tender, about 2 minutes. Season with salt and pepper.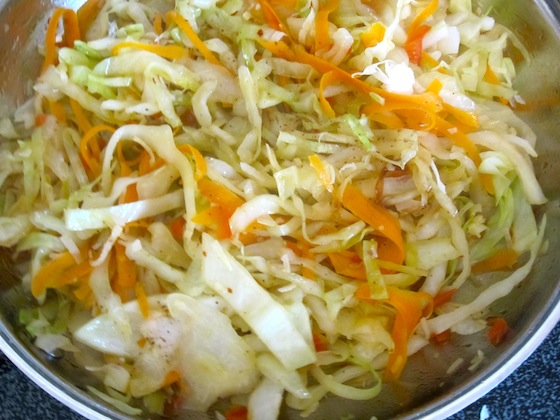 I have a strange relationship with cabbage. I either love it or hate it, depending on how it's prepared. If it's cooked in a soup and it's kind of mushy, the smell and texture really makes me sick. But I love it in salads or sauteed. My husband loves cabbage and I am always making vegetarian dishes for him, many of which I will not eat 😉
I made this Sautéed Cabbage with Carrots and Coconut about a month ago and it was simple, but delicious. It makes an easy and wonderful side dish with your favorite meat, poultry, or fish, or vegetarian main entree.Salt and pepper½ teaspoon ground cumin½ cup shredded coconut