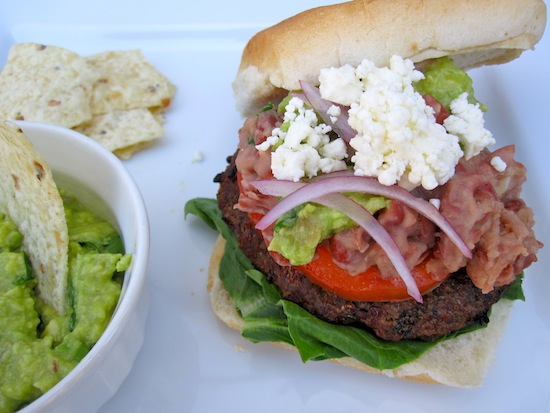 I know what you might be thinking,"really Erica, a burger again"? But trust me, this is good! Here is the little burger I made myself for lunch about two months ago using the delicious flavors of Mexico: a beef patty topped with tomato, guacamole, refried beans, queso fresco, and red onions.
It was absolutely fantastic and I suggest that you make this Mexican burger on Labor Day, or any day, and wash it down with a cold Margarita!
Happy Labor Day everyone!
Ingredients
(4 burgers)
Beef patties

1 pound ground beef
1 garlic clove, finely chopped
1 scallion, finely chopped
½ cup chopped white onion
½ teaspoon ground cumin
Salt and black pepper
4 hamburger buns
Guacamole
Queso fresco
4 tomato slices slices
Lettuce
Red onion slices

For the Refried beans

1 can (15.5 oz) pinto beans
1 tablespoon vegetable oil
1/4 cup chopped onion
1 garlic clove minced
1/4 teaspoon ground cumin
Salt and pepper
1/4 cup water
Directions
To make the beans:
Heat the oil in a sauce pan and saute the onions for about 5 minutes or until translucent, add the garlic and cook for 2 minutes more.
Add the beans, water, ground cumin, salt and pepper. Cook for about 10 minutes, stirring often with a wooden spoon.
Mash the beans using a potato masher and stir well. Set aside.
In a large bowl, add the ground beef, garlic, scallions, onion, cumin, salt and pepper. Mix well and refrigerate for about 1 hour. Form 4 patties.
Heat a grill or sauté pan and cook the hamburgers for 5 minutes on each side until done. Remove to a plate and cover with aluminum foil.
Serve burgers with lettuce, guacamole, tomatoes, red onions, refried beans and queso fresco.
This was printed from MyColombianRecipes.com