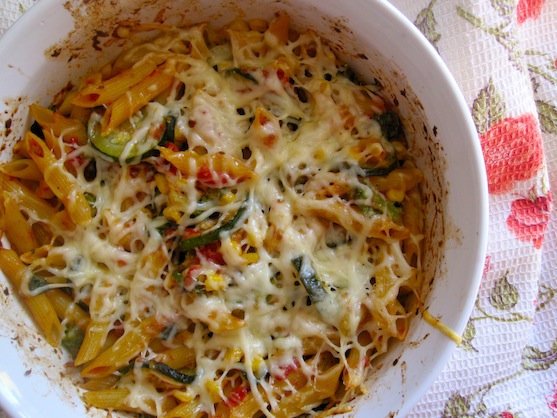 Thank goodness for those quick and easy pasta dinners using whatever is left over in my refrigerator. I cooked pasta, added tomato sauce and leftover roasted veggies from the night before, and combined them with some fresh basil, asiago and mozzarella cheese. I placed everything in the oven and 20 minutes later a meatless dinner was served. Feel free to substitute my vegetable choices for your favorites.
If you want to have this meal ready in 20 minutes like I did, you need to roast the vegetables and make the tomato sauce the day before or use your favorite store bought sauce.
Buen provecho!
Ingredients
(4-6 servings)
1/2 pound of tubular pasta, penne or ziti
2 cups tomato sauce
1/2 cups mozzarella cheese
1/4 cup Asiago cheese
Fresh basil

Vegetables

2 zucchini, sliced 
1 red bell pepper, sliced
1 yellow bell pepper, sliced
1 large red onion, sliced 
2 cups broccoli florets
1 cup fresh corn kernels
Olive oil for roasting the vegetables 
Salt and Pepper, to taste 
3 Tbs. extra-virgin olive oil  
1/2 cup minced mixed fresh thyme, basil, and oregano
1/4 teaspoon red pepper flakes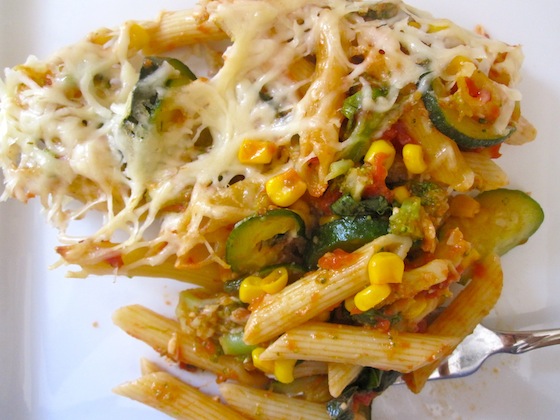 Directions
Vegetables:

Pre-heated the oven to 350° F.
Line a baking sheet with parchment paper. Place the sliced vegetables on the baking sheet and drizzle with the olive oil. Add the herbs and season with salt and pepper.
Place in the oven and bake for 35 minutes or until the vegetables are cooked. Let it cool.
Bring a large pot of water to a boil and salt the water. Add pasta and cook the pasta to al dente.
Preheat your oven to 400 degrees F.
rain pasta and add it to a casserole dish. Add tomato, mozzarella cheese and grated Asiago.
Stir and add the roasted veggies over the pasta, as much as you like.
Add some mozzarella cheese over the pasta. Add a final sprinkle of Asiago. Bake until top is golden and cheese melts, about 20 minutes.
This was printed from MyColombianRecipes.com