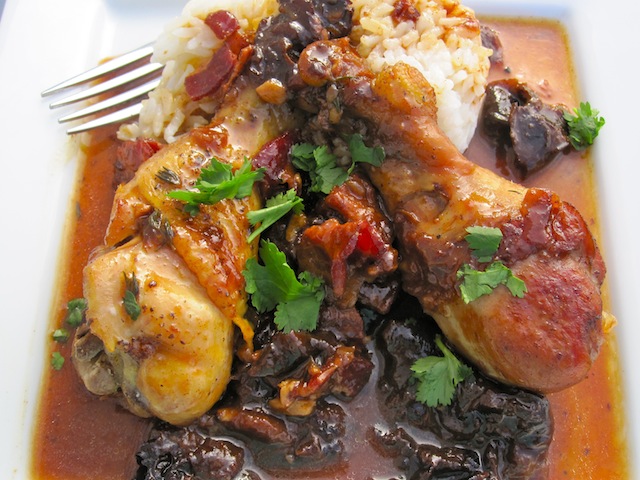 Sometimes I develop a craving for a dish with a combination of sweet and savory flavors, like meat, chicken or fish with fruit sauces. This Chicken with Prune and Bacon Sauce is such a dish, and it is great for entertaining because it is a one-pot dish and very tasty.
I used drumsticks instead of breast meat for richer flavor. I served it over white plain rice and it was absolutely delicious.
Buen Provecho!
Ingredients
(4 servings)
8 chicken drumsticks, bone in and skin on
1/2 tablespoon olive oil
5 bacon slices, cut into small pieces
1/2 cup onion, finely chopped
2 garlic cloves, minced
Zest of 1/2 orange
1/2 teaspoon fresh thyme
1/2 teaspoon ground cinnamon
1 bay leaf
1 1/2 cups chicken stock
1/2 cup red wine
Salt and pepper
1 tablespoon honey
1 cup prunes
Directions
In a large pot or dutch oven heat the olive oil, add the bacon and cook for about 3 to 5 minutes or until crispy. Remove and set aside.
Rub the chicken with salt and pepper and to the pot. Saute for about 3 minutes on each side or until brown. Remove from the pot and set aside with the bacon.
Add the onions to the pot and cook for about 5 minutes or until translucent, add more olive oil if necessary. Add the garlic and cook for 1 minute more. Add the red wine and with a wooden spoon scrape the bottom of the pot.
Add the chicken, bacon and remaining ingredients to the pot. Cook over medium- low heat for about 1 hour and 15 minutes or until the chicken is cooked and the sauce has thicken. Add more chicken stock if necessary. Serve warm over white rice.
This was printed from MyColombianRecipes.com