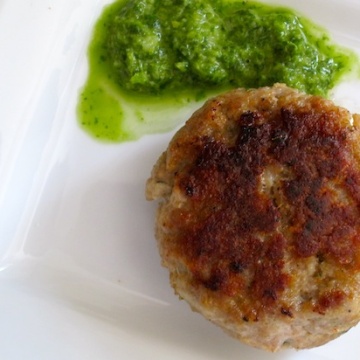 Turkey Patties with Cilantro and Basil Sauce
Ingredients
1

pound

ground turkey

½

cup

bread crumbs

2

Tablespoons

chopped fresh cilantro

1

teaspoon

ground cumin

1

teaspoon

paprika

1

egg

Salt and ground pepper

to taste

½

cup

grated onion

Olive oil to cook the patties

Salt and pepper to taste

2

tablespoons

lemon juice

2

tablespoon

white vinegar

¼

cup

olive oil

¼

cup

packed fresh basil leaves

¼

cup

packed fresh cilantro

1

garlic clove
Instructions
In a large bowl, combine the turkey, bread crumbs, cilantro, cumin, paprika, salt, pepper, egg and the onion. Using your hands, mix together the ingredients until evenly distributed.

Divide the mixture into equal portions and form each into a patty.

Heat the oil in a skillet over medium-high heat.

Cook the patties, turning once, until opaque throughout, about 6 minutes per side.

Serve the patties with the cilantro-basil sauce on the side.

To make the sauce: In a food processor, combine all the ingredients. Taste the sauce and adjust the seasonings with salt and pepper.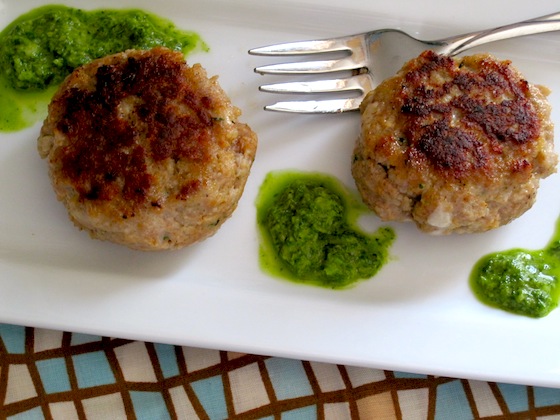 My oldest son loves food made with ground meat, such as meatloaf, meatballs and hamburgers. So, I am always looking for ways to make him dishes using ground beef or pork.
My mother-in-law's food choices always lean toward health foods and she uses ground turkey to make her meatloaf. The other day I tried it for the first time and to my surprise, I liked it!
After that turkey meatloaf, I decided to cook some ground turkey recipes for my son and these Turkey Patties with Cilantro and Basil sauce is one of them. It was delicious!
Buen provecho!