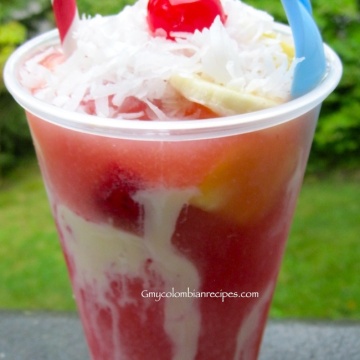 Cholados Colombianos (Colombian Cholados)
Ingredients
Ice

1

cup

diced strawberries

1

cup

sliced banana

1

cup

diced fresh pineapple

1

cup

diced mango

Sweet condensed milk to your taste

1

cup

shredded coconut

Maraschino cherries for garnish

Straws and spoon for serving

2

cups

passion fruit

maracuyuá pulp

½

cup

of water

¾

cup

of sugar

2

cups

Colombian blackberry

mora pulp

½

cup

of water

¾

cup

of sugar
Instructions
Dice all fruit to bite size. Refrigerate until ready to serve.

To make the syrups: Combine water, fruit pulp and sugar in a small saucepan. Bring the mixture to a boil over medium-high heat.

Continue cooking the mixture until the sugar is dissolved, and you have a thick mixture. Let the syrup cool in the refrigerator before using.

hen ready to assemble: Crush the ice in a blender or food processor.

Set plastic cups or other serving glasses on a work surface. Add about ½ cup of crushed iced, drizzle passion fruit syrup and berry syrup over ice.Add some condensed milk on top.

Place 1 pile of fruit on top of the ice. Drizzle more condensed milk on top of the fruit. Garnish with shredded coconut and a cherry.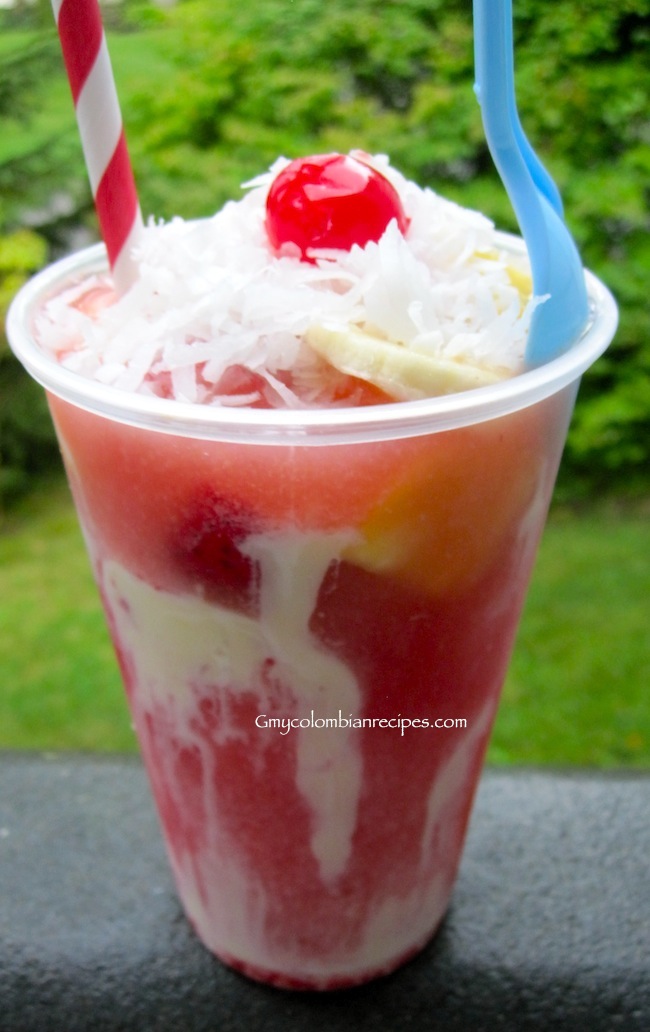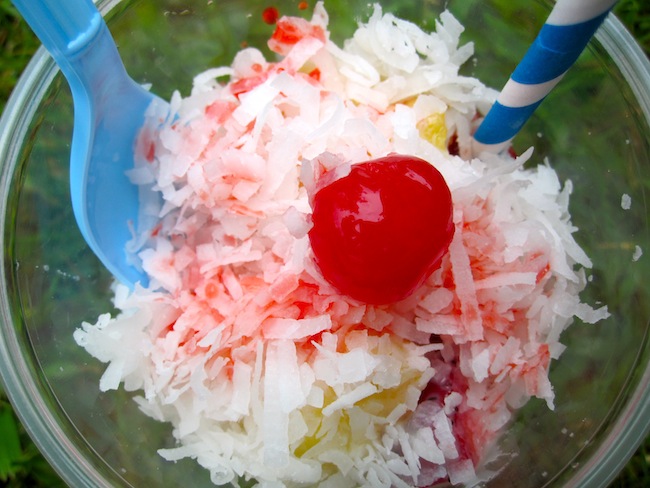 Cholado is a cross between a frozen dessert, fruit cocktail, and a drink, and derives from El Valle region of Colombia. It is made with crushed ice, fresh fruit, condensed milk, passion fruit (maracuyá), and Colombian blackberry (mora) syrup, and is topped with shredded coconut and a maraschino cherry. It makes a wonderful summer dessert!
It has the perfect combination of flavors and textures. It's tangy, sweet, creamy, crunchy, and fruity, all in one spoonful. Cholado is one of those desserts you hope never ends. I used strawberries, banana, fresh pineapple and mango, but you can make cholados with any type of fruit you like!
Buen provecho!