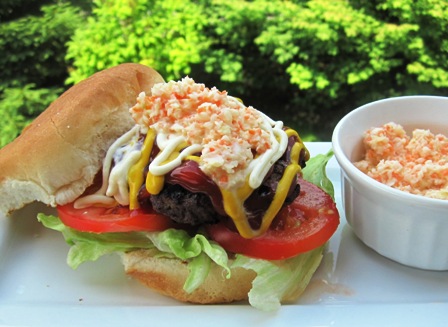 One of the greatest things about food is how any person from any country can make an adaptation of a classic dish. Hamburger is the perfect example of how with different spices and condiments you can make your own, unique recipe.
We Colombians love flavor and like to add condiments to our food and hamburgers are not an exception. We have a lot of gourmet hamburger restaurants around the country and they are fantastic. Every time I visit Medellín I go to a hamburger restaurant where my mom would take my siblings and me when we were kids. On the table there would be a big bowl of coleslaw and all my favorite condiments, salsa rosada, mayo, ketchup and mustard. My sister and I would load our hamburgers with coleslaw and condiments but my brother on the other hand would just have the bun and the pattie. What a great memory. We really enjoyed ourselves!
Ingredients
(4 hamburgers)
1 pound ground beef
2 garlic cloves, finely chopped
2 scallions, finely chopped
½ cup chopped white onion
½ teaspoon ground cumin
¼ teaspoon ground paprika
Salt and black pepper
4 hamburger buns
Lettuce
Tomato
Cole Slaw
Ketchup
Mayonnaise
Mustard
Directions
In a large plastic bowl add the ground beef, garlic, scallions, onion, cumin, paprika, salt and pepper. Mix well and refrigerate for about 1 hour. Form 4 patties.
Heat a grill or sauté pan and cook the hamburgers for 5 minutes on each side until done. Remove to a plate and cover with aluminum foil. Allow the hamburgers to rest for 5 minutes and serve immediately on buns with the condiments.
This was printed from MyColombianRecipes.com