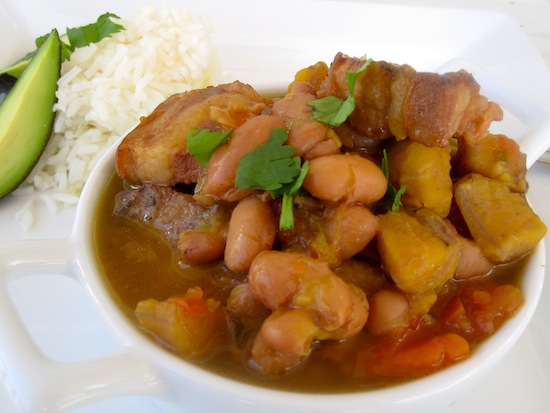 I've been meaning to tell you about my love for anything involving beans. Actually maybe I have told you that before 😉 Anyway, growing up, my mother prepared Frijoles con Chicharron (Bean Stew with Pork Belly) once a week, which made my siblings and I very happy. Happy because it was food that involved beans and happy because it was deliciously rich and comforting and always cooked to perfection. She served them with white rice and avocado on the side. Simple and wonderful in every way. This dish is also popular in the Andean zone of Colombia.
Sometimes I like to serve this stew as a casual weekday meal, just as we used to eat it at home when I was a girl. And at other times, I prefer to serve it as part of the Bandeja Paisa.
Buen Provecho!
Ingredients
(6-8 servings)
1 pound dried roman or pinto beans, soaked overnight
13 cups water, plus more as desired
1 1/2 pounds pork belly, cut into small pieces
1 tablespoon olive oil
1/2 medium onion, chopped
2 garlic cloves, crushed
2 scallions, finely chopped
1 medium tomato, finely chopped
1 green plantain, peeled and cut into small chunks
1 large carrot, finely chopped
salt and pepper
1/2 teaspoon ground cumin
1/2 teaspoon color, achiote or sazon goya with azafran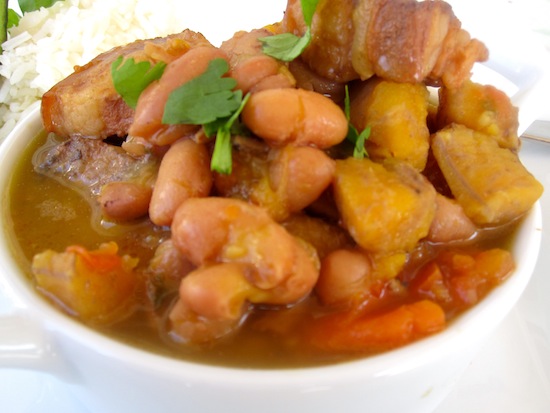 Directions
In a large pot, heat the oil over medium heat. Then add the onions and cook for 3 to 4 minutes or until the onions are translucent. Add the tomatoes, garlic, scallions and cook for another 3 minutes.
Add the pork belly, stir and cook for 2 minutes more. Add the beans, carrots, cumin, color and water. Bring to a boil. Then cover the pot and reduce the heat to medium- low and cook for about 1 hour.
Add the plantains and cook for 45 minutes to 1 hour or until the beans are cooked. (Add additional water, as necessary.)Add salt and pepper, stir and serve.
This was printed from MyColombianRecipes.com